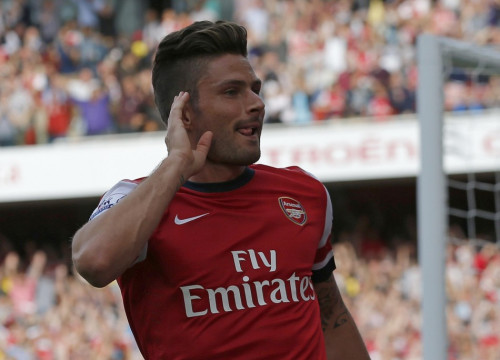 Olivier Giroud is desperate to secure victory against Liverpool to silence those who still harbour doubts about Arsenal's title credentials.
Manchester City's 1-0 defeat by Chelsea allowed Arsenal to return to the top of the Premier League. But after nine years without a major trophy there are still major doubts about Arsenal's chances of holding their lead until the end of the season.
But in an interview with Arsenal's official website, Giroud claims there are good reasons to believe in the Gunners.
"Maybe we are not favourites for the title but we have been first for a long time and it's the 25th game [coming up]" Giroud said.
"We have to show people that we want to answer [our critics] on the pitch and nothing more. That is the most important [thing] for us, is the reality of the pitch.
"After that, if people don't think we can finish first it is not my problem, but I know we have a good chance of winning the league."
Arsenal visit Merseyside on Saturday in a crucial Premier League game and Giroud is hoping for a repeat of the performance which brought a 2-0 victory at the Emirates earlier this season.
"It was one of our best [displays] because we played really well and we didn't let them play their game.
"After the game some people could have said Liverpool didn't play their game but it was because of our pressure.
"We didn't let them play, we kept them under pressure and closed them down. That's why we didn't see a lot of Suarez and Sturridge. We kept another clean sheet so that's what we need on Saturday."