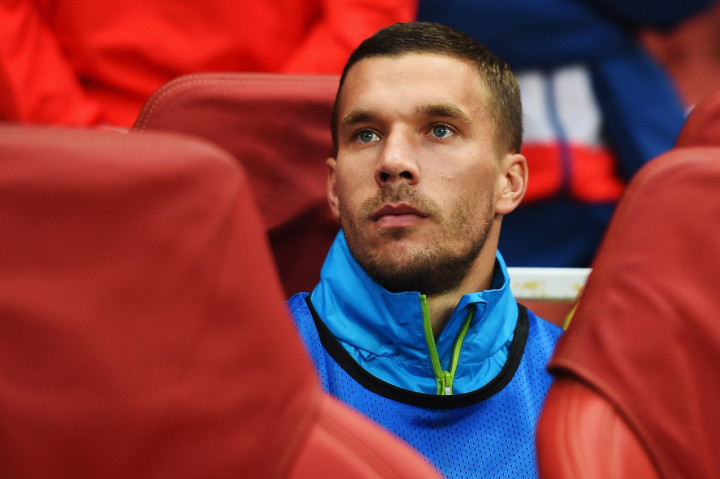 Arsenal striker Lukas Podolski has strongly denied reports linking the German international with a move to north London rivals Tottenham Hotspur.
Reacting to the story being included on the BBC Sport gossip page, sourced from Caughtoffside.com, Podolski wrote: "Hell will freeze over before this transfer would happen."
Just seven players have moved from Arsenal to Tottenham during the pair's infamous rivalry, with William Gallas and Emmanuel Adebayor among the recent examples, with their reputations having never recovered in the eyes of Gunners fans.
Having made just six appearances in all competitions this season, Podolski's future at Arsenal has been heavily scrutinised, and the 29-year-old last week admitted he was unhappy with life on the sidelines at The Emirates Stadium.
"I can assess my situation, and it needs to change now - in the club," he said. "Let's see what happens now, and let's see what happens in the winter. It's clear that I am not happy right now."
The summer signings of Alexis Sanchez and Danny Welbeck have seen Podolski slip further back in the pecking order at Arsenal, and having not scored since April, manager Arsene Wenger has seemingly deemed the forward surplus to requirements.
But speaking in October, Wenger said: "It is quite simple, there is no transfer market at the moment. When there is no transfer market, you are all on board – or not on board. It is like that.
"This is a job where you can only be successful if you're fully committed. You cannot be half in and half out, so all this transfer speculation is not considered at all. We are all on board to get results, and Podolski will be part of that."
Podolski has been linked with moves back to Germany, with Bundesliga duo Wolfsburg and Bayer Leverkusen both in contention, while Juventus have also reportedly registered an interest.