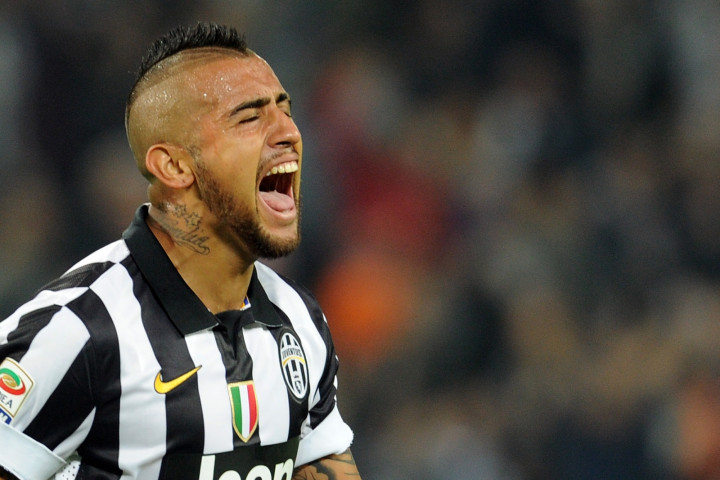 Arturo Vidal has denied suggestions he has been fined by Juventus and firmly ended talk of him leaving the club after being relentlessly linked with a move to Manchester United throughout the summer.
The Chile international remained at the Bianconeri despite United's efforts to lure him to Old Trafford, but has recent found his position under scrutiny after he was photographed on a night out on the eve of a top-of-the-table clash with AS Roma.
Juventus manager Massimiliano Allegri left Vidal out of that match-day squad for what he later described as "technical reasons" but the 27-year-old's omission in 1-1 draw with Sassuolo on Saturday 18 October sparked fresh doubt over the player's future in Turin.
Reports in the Italian press had suggested the powerful midfielder had been hit by a €100,000 (£79,000) fine, a claim strongly denied by Vidal who insists talk of a summer move to the Premier League is behind him.
"Given the information in the media in recent days I would like to clarify a few things," Vidal wrote in a statement released through his personal Twitter account.
"My relationship with everyone at Juve is good. My team-mates, the coaching staff and the club have confidence in me and I in them.
"The club have not fined me. The information on this subject is wrong and in many cases – ill-intentioned."
One of the key factors behind the failure of Vidal's proposed move to United regarded the condition of the player's knee. The Chilean underwent surgery on his right knee prior to his country's World Cup campaign with his national team manager Jorge Sampaoli later declaring the player had only been operating at "30 or 40%" of the level he performs at for his club due to the operation.
Vidal's continued recovery from an eventful summer has been evident in his struggles to rediscover last season's form but the former Bayer Leverkusen star insists there is no problem with his fitness.
"My knee is doing very well," the statement continued. "With work and effort I will come back to my best form after undergoing the operation that meant I was not able to carry out a full pre-season like my team-mates.
"I am 100% committed to Juve and my national team and I hope to win both titles this season. I hope I have given information with these words of mine. Surely the bad guys will continue to give the wrong information but I cannot do anything to prevent this."