Arsenal's fortunes this season depend on whether Alexis Sanchez can have the right frame of mind and perform at his best level during the final year of his contract, former Manchester United defender Gary Neville has said.
Sanchez, 28, came close to joining Manchester City in a £60m ($78m) deal on transfer deadline day, but the move broke down as Arsenal failed to convince Monaco winger Thomas Lemar to join them as replacement for the Chilean.
Sanchez was criticised for his performance by Neville in the Gunners' 4-0 defeat against Liverpool at Anfield for not working hard enough, and the former England defender feels manager Arsene Wenger has his work cut out to get the best out of the forward for the rest of the season.
"For Arsenal now, it's all about which Sanchez turns up," Neville told Sky Sports. "The terrier-type player that I look at and love, or the one in the last four or five months that throws the towel in and his hands in the air at his team-mates, which I do not like.
"He's been someone who has been difficult to warm to in the last few months, particularly at Anfield. Within the first 20 minutes after the first goal, he was throwing his arms up at his teammates.
"And when players start doing that, then you have big problems, especially when it is coming from a star player."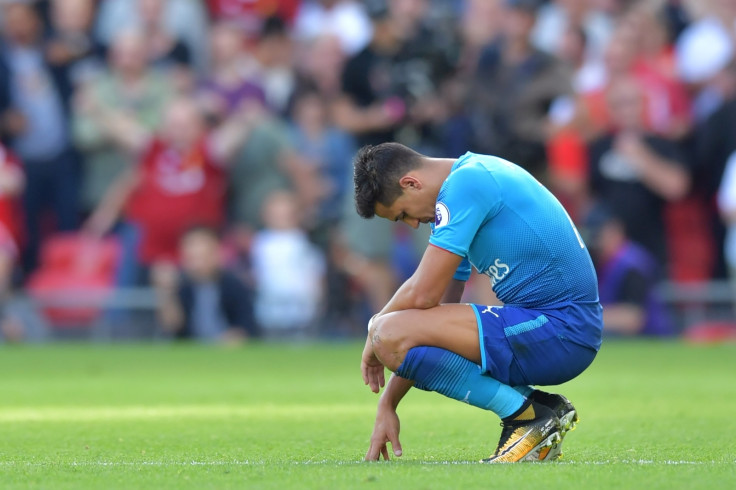 Arsenal only have three points from their opening three fixtures following back-to-back defeats against Stoke and Liverpool, leaving them languishing in 16th place on the Premier League table.
Neville added: "You look at their forward line now – [Mesut] Ozil, Sanchez, [Danny] Welbeck, [Alexandre] Lacazette and [Olivier] Giroud – that is an absolutely outstanding forward line who should destroy teams.
"They should score a bag full of goals every single game – we know they have issues in central midfield and can defend better, but if those players decide they want to perform and play, then they have a chance of having a good season."