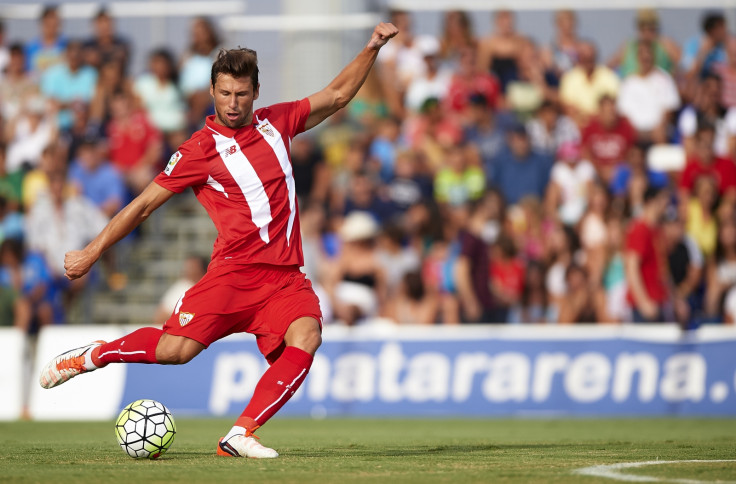 Arsenal FC's summer target Grzegorz Krychowiak has claimed that the big support received from the Sevilla fans played a crucial role in his decision to stay at the Europe League winners one more season. He also said that Unai Emery's continuity at the La Liga outfit played its part in the situation. The Polish international midfielder, nevertheless, suggested that Arsene Wenger's interest in securing his services was real.
The Times reported in June 2015 that the French manager had indeed identified the 25-year-old midfield star as potential candidate to bolster his midfield amid speculation linking the club with a backup for Francis Coquelin. The presence of Arsenal scouts during Sevilla's Uefa Super Cup defeat to Barcelona in August reignited rumours about the Gunners' intentions to meet his £21.9m ($33.3m) release clause – although Wenger had previously ruled out his arrival.
This way just days before the deadline day, and Krychowiak himself was forced to quash speculation on his Twitter account, stating his plans to continue playing for Sevilla for the remainder of the season. When questioned during the international break about the interest from the Gunners, the player was quoted by Estadio Deportivo say saying: "That does not matter now."
He continued: "What matters to me is that I am staying at Sevilla. It was important for me to keep progressing here. Playing at Sevilla this season is very important to me, it is where I wanted to be. I would say that every information about transfers has a grain of truth, and that's what the case. But I tried to don't think about that. I went on on holidays thinking only in playing for Sevilla the following season. A player must focus only on playing and there other people who are in charge of dealing with other stuff."
Krychowiak joined Sevilla last summer after the Andalucian paid £2.9m ($4.5m) to Stade de Reims for his services. But after he proved to be a sensation in the Europa League, a number of clubs looked ready to pay off his clause.The midfielder, however, claimed that after Emery decided to stay at the club, he believed that it was too soon to make a move.
"I have felt the support of the fans. They played an important role in my decision to stay. All comments on my Twitter and Instagram accounts said the same: 'Krycho stay'. And it happened. Now I want to give the hundred percent for Sevilla," said the midfielder. "Unai's decision to stay was also crucial for me. I wanted to be part of his project, only his, nobody else. If he had gone to another team, I would have seriously considered going to another team too. Emery is part of my success. He trusted in me. We are soul mates, fit perfectly, our philosophies are very similar. I have been in Sevilla just one season but I already owe him a lot."
"Since I arrived the to club I thought that I would be at least two years at Sevilla. I think I can still do it here and I am in not rush to move elsewhere. I feel great in Andalucia, we are going to play the Champions League this season. I want to show my best in this competition."
Estadio Deportivo, meanwhile, reports that the club are ready to reward for his decision with a pay rise. Nevertheless, the intention is to keep his £21.9m release club in order to ease a future move.