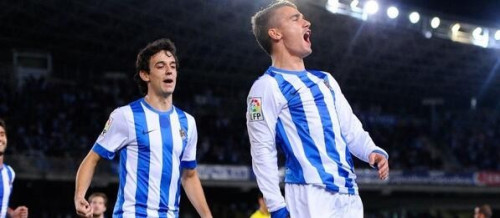 Arsenal have been boosted in their chase for Antoine Griezmann after the winger revealed that he is willing to quit Real Sociedad in order to strengthen his chances to play for France.
The Gunners were linked with a move for the Frenchman but Sociedad are unwilling to get into negotiations with the Gunners. The winger is reported to have a release clause in the range of £24m and is also being scouted by the likes of Manchester United and Paris Saint-Germain for a move in January.
Arsenal have lost Theo Walcott to injury this season and his acquisition will give the Gunners pace and width down the flanks which they have been lacking in Walcott's absence.
The winger has scored 12 goals and assited two in 17 games this season and will be a major boost for any side whom he plans to join in the future. He is contracted to Sociedad till 2016 and is unlikely to extend his contract in a bid to seek his future elsewhere.
"I am relaxed about my future at the moment. I have not had talks other clubs yet. This is something to look at. I want to play for a leading European team and I hope this can help me get a place in the France team," Griezmann said.
Meanwhile, Arsene Wenger has revealed that he is happy with how the team is playing at the moment after notching up their sixth straght win in all competitions. The Gunners demolished Fulham 2-0 in the second half after surviving a surge of Fulham attack in the initial period.
"I am happy with the performance of my team because we have been remarkably consistent. let's not forget that we had a difficult start and we have shown all kind of ingredients technically, but as well mentally to respond to what happened to us at the start of the season. It was not easy and we played two more games in the Champions League as well,"he told www.arsenal.com