Arsenal Targets on Jose Mourinho's Summer Radar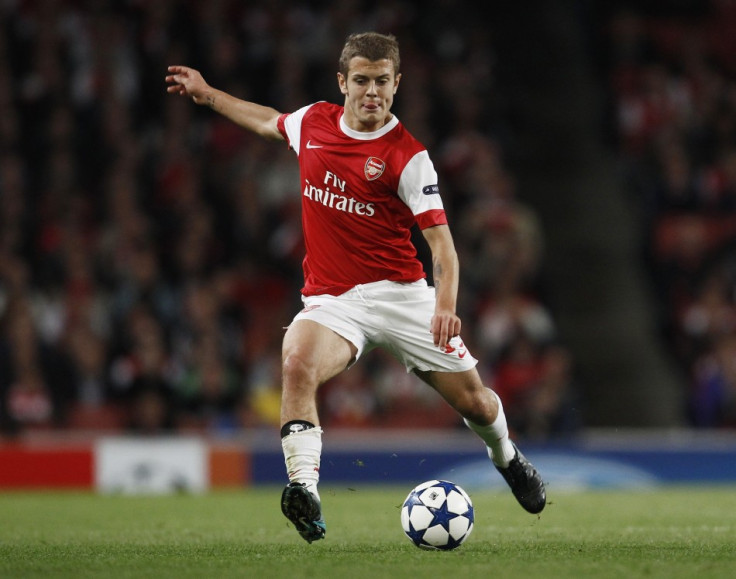 Arsenal's summer transfer policy is expected to come under pressure from Real Madrid after the La Liga giants outlined their master plan to sign five of the world's best young players.
Published by Spanish newspaper Marca under the headline "Operation Madrid 2014," the list underlines Real's desire to win the Champions League for the first time since 2002.
Arsenal manager Arsene Wenger is unlikely to welcome Jack Wilshire's appearance on the hit-list of five young players. The Arsenal midfielder recently pledged to end his career at the Emirates Stadium but he was named by Marca.com alongside Lille's Eden Hazard, Borussia Dortmund's Mario Gotze, Barcelona's Rafinha Alcantara and Iker Muniain of Athletic Bilbao.
Jack Wilshere
Wilshire recently vowed to finish his career with Arsenal and Arsene Wenger can be expected to rebuff any attempts to sign the midfielder in the summer.
The 19-year-old midfielder outlined his desire to play a key role in bringing trophies to the north London club as Wenger looks to build a team of young talents to end the club's trophy drought.
"Can I promise I will be at Arsenal for ever? I can promise that, yes," Wilshire said last week. "I've been at the club since I was nine and I've learned to love it.
"From the [Patrick] Veira days, to [Dennis] Bergkamp, [Cesc] Fabregas, I've watched them come through and move on.
"But now there's a crop of new players, [Aaron] Ramsey, myself, Kieran Gibbs, hopefully we can really create something special. I love the club and I want to be part of its future."
Eden Hazard
Lille striker Eden Hazard looks set to leave France in the summer but Real can expect Arsenal and Tottenham Hotspur to challenge for the highly-rated midfielder's signature.
Arsenal manager Arsene Wenger has been monitoring Hazard for over a year, but the 20-year-old playmaker has also attracted interest from both Spurs and Real Madrid in recent weeks after he revealed a desire to leave Ligue 1 at the end of the season.
"I feel ready to make it to the next level at a big club," he told L'Equipe in October. "I stayed in Lille this season because there were still things I had to work on, things to prove. But now, I'm ready."
Arsenal had appeared the most likely destination for the Belgium international but Real have emerged as the player's likely destination after Los Blancos failed to secure the signature of Santos striker Neymar.
Hazard, who is contracted to Lille until 2015, has been linked with a move to Ligue 1 rivals Paris Saint-Germain but the player has hinted his next move will be abroad.
"Paris is not for now," he said. "Paris is magical, as they say. Of course it attracts me, but for now, no. In France I do not want to build a rival club to Lille. After France, I want to go abroad."
Mario Gotze
As IBTimes Sport revealed last week, Borussia Dortmund sensation Mario Götze is ready to snub rumoured interest from a host of top European sides to remain in the Bundesliga.
Manchester United, Arsenal and Real Madrid have been perpetually linked with the prodigiously gifted 19-year-old over the last 12-months, but a source close to the Borussia Dortmund talisman told the IBTimes, that Germany's rising star is committed to his club and has no intention of leaving the Bundesliga in January.
"There is no chance of him leaving in the winter. Zero per cent." The source, who asked to remain nameless, told the IBTimes.
"There is so much written in the press but there has been no communication with Mario.
"He knows about the interest and he will always be in demand, but it is good to respect the wishes of Dortmund.
"He is very comfortable at the club and just wants to enjoy his time at Dortmund."
Rafinha Alcantara
Barcelona's Rafinha Alcantara, the younger brother of club team-mate Thiago, has attracted interest from Chelsea, Villarreal and Real following his outstanding performances for Barca's B-team.
However, the Brazilian born 19-year-old has admitted there is nowhere he would rather be than Camp Nou and revealed he is on the verge of committing his long-term future to the club.
"Things are looking good, very good," Rafinha was quoted as saying by EFE. "Both parties are pretty close to reaching an agreement. We are very happy to be at this club and want to stay here.
"Making your first-team debut is a dream come true for every player from the youth academy. It was extremely special for me to be part of the best team in the world.
"You never know what will happen in the future, but I'd love to become an important first-team member at Barcelona."
Iker Muniain
Dubbed the 'Basque Wayne Rooney', 18-year-old Iker Muniain has impressed for Marcelo Bielsa's Athletic Bilbao side this season.
Muniain has been linked with Manchester United and Liverpool in recent months and Bilbao may look to cash-in on the highly-rated youngster in the summer.
The club recently secured the player's services with a new contract that includes a €45 million (£38.4m) release clause.
© Copyright IBTimes 2023. All rights reserved.