Theo Walcott believes that Arsenal showed a lack of commitment in the defeat to Chelsea at the weekend that left the club seven points adrift of fourth place which is currently held by local rivals Tottenham.
There was plenty for Arsenal fans to rejoice when the England winger finally put pen-to-paper on a new contract but their celebrations were soon cut short after an abject first half that saw them trail 2-0 at Stamford Bridge.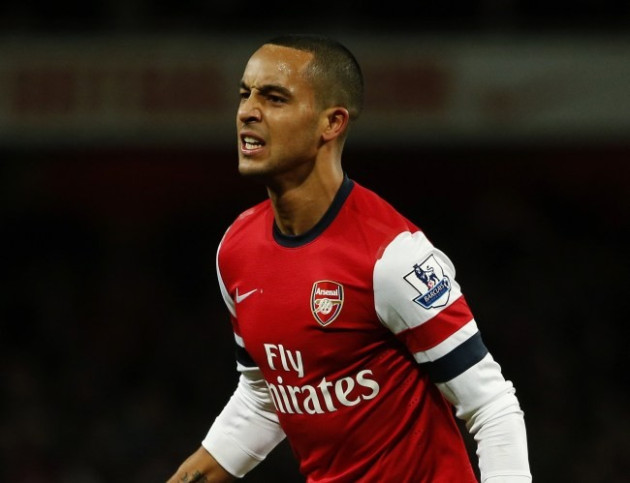 Arsenal did restore some pride in the second half when Walcott grabbed an early goal but they were unable to find an equaliser and now find themselves in sixth place, some 22 points behind leaders Manchester United.
Walcott believes that there is a lack of self-belief within the squad that needs to be addressed as they did perform well in the second 45 minutes against Chelsea and showed what they are capable of.
"I think there's a lack of belief as to how good we can be. We've got some very, very good players here. I think players don't believe they are good enough at times. But, trust me, I see them every day in training and they should believe that," Walcott told the Mirror.
"We need to start realising how good we are. We showed some great stuff in the second half at Chelsea but it's time we did that from the start on.
"If we just look at the second half, forget the first half, I think we were too slow, sloppy closing down and we've got to show more commitment. We gave them too much space as well.
"As soon as we pressurised them a bit more, pushed up higher and the manager said if we got that early goal then it would be different.
"It wasn't meant to be, but we gave the manager something to think about and we can't be slow off the blocks like that again.
"We've got a great bunch here, a great manager and he always puts it upon himself which is hard because we are the players out there every week. We try to win for him, we need to win for him because he's been very helpful for us young players coming through."
Now that Walcott has committed his future to Arsenal he will be hoping to see an upturn in the club's fortunes as they are in danger of missing out on a place in the Champions League for the first time since Arsene Wenger arrived at the club.