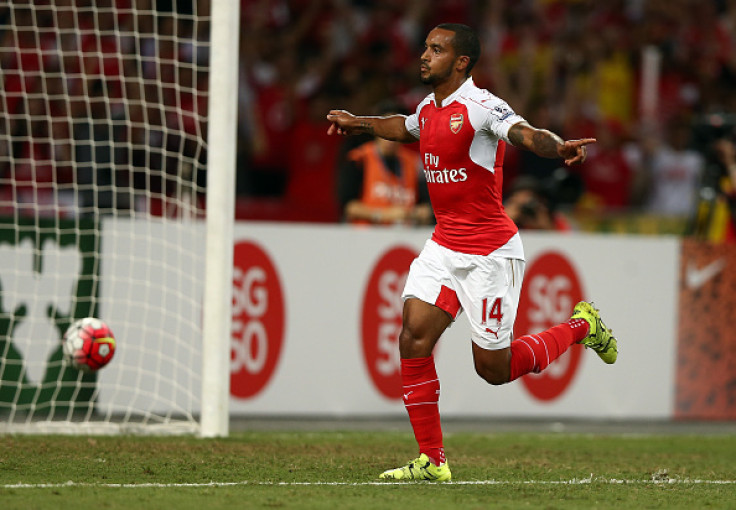 Arsenal forward Theo Walcott has dedicated their scintillating 3-0 win over Manchester United to the manager, who went through a lot of trouble to defend the Gunners' abject performance in midweek against Olympiacos in the Champions League. The players were not up to the task and conceded three avoidable goals which put a major question mark over their chances of qualifying through to the knockout stages.
However, such an attitude was not apparent against United where they started the game with aplomb, going two up in less than eight minutes. Alexis Sanchez scored the opener after some brilliant interplay with Mesut Ozil. The German was back into the thick of things a minute later as he got on the end of a pass from Walcott and slotted the ball home.
Walcott could not get his name on the score-sheet like he did in mid-week but his two assists were ostensibly more valuable than what his goal amounted to against Olympiacos. The England international insisted that the players gave their all for the cause and professed that this is the level of performance they should be aiming for in all their games and not just the big fixtures.
"You could sense the desire was there we need to show that in more games. But our Premier League record is actually very good," Walcott told Sky Sports, as quoted by Goal.
"Everyone is beating everyone else at the moment. But we're where we are want to be just about but we want to be dominant at home against big teams and we should be playing like that every week. There will be a lot of aching bodies tonight but so it should be and that was for the manager.
"We've spoken to each other on our own we wanted to do this for the fans. Sometimes we have great performances but don't get the results you need but today that first 25 minutes was unbelievable. Nobody would've been able to cope with us. The best football I've ever been involved in. It was the Arsenal of old."
The Gunners need to buckle up and put in a similar performance against Bayern Munich when they travel to the Allianz Arena the week after the international break. A win there will open up the floodgates for the Gunners to get back into the mix and steal their way into the round of 16.