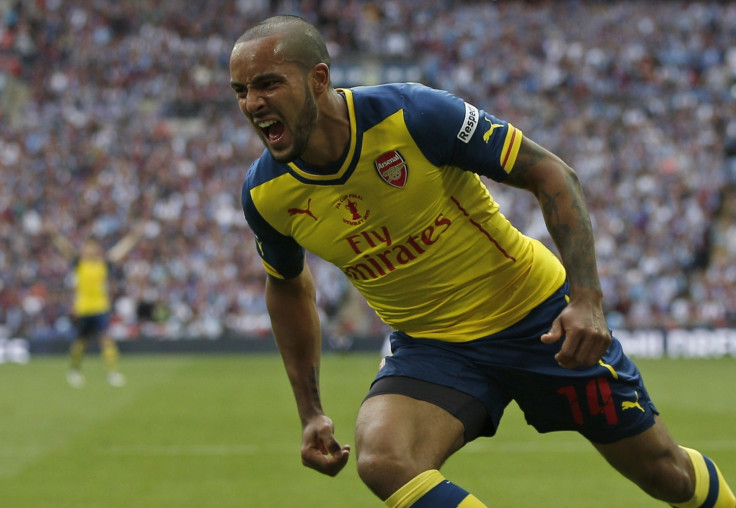 Theo Walcott has revealed that he will take his time over signing a new contract with Arsenal and that he will not be worried if the proceedings go beyond the start of next season.
The Gunners start their Premier League campaign against West Ham on 9 August, after their Community Shield game against Chelsea the week before at Wembley. The England international spent the last two years mostly on the treatment table after an anterior cruciate ligament injury kept him out of action for over a year.
The 26-year-old, whose contract expires after the end of this season, is back in goal scoring form, with his last three starts in all competitions producing five goals, including a hat-trick against West Bromwich Albion on the final Premier League game in the recently concluded campaign.
The forward also scored the opening goal in the FA Cup final last season and kept his goalscoring streak alive by scoring against Everton in the Barclays Asia Trophy final where they beat the Toffees 3-1.
With Arsenal in the market for a striker, fans are losing sleep over Walcott's contract situation but the forward insists that he wants to stay with the club and a resolution will be reached in the next few days.
"My agent has talked to the club, I enjoy playing for Arsenal, so I am just letting them crack on with things and I'll continue playing my football," explained Walcott, as quoted by the Mirror.
"If it happens, it happens. We'll just play the waiting game and see what happens but I'm sure it won't be long.
"And if it's not sorted before the season starts I'd be comfortable with that, definitely. It's not in my thought process at all and I think that's the best way to be.
"You don't want to dwell on it, you want to play well and if it happens, it happens. I won't let the delay affect the way I'm going to be playing this season. I can't let that affect me, I want to do well for this club.
"This squad, for me, is one of the best I've been involved in. I want to be part of that. There is something special in this group of players. We have got to keep this group together as well.
"I think successful teams stay together for a long time so I think this team can be very successful. We've won two FA Cups now and the next big step is obviously challenging for the League. And if we had shown our form in the second part of the season from the start it could have been us," he added.