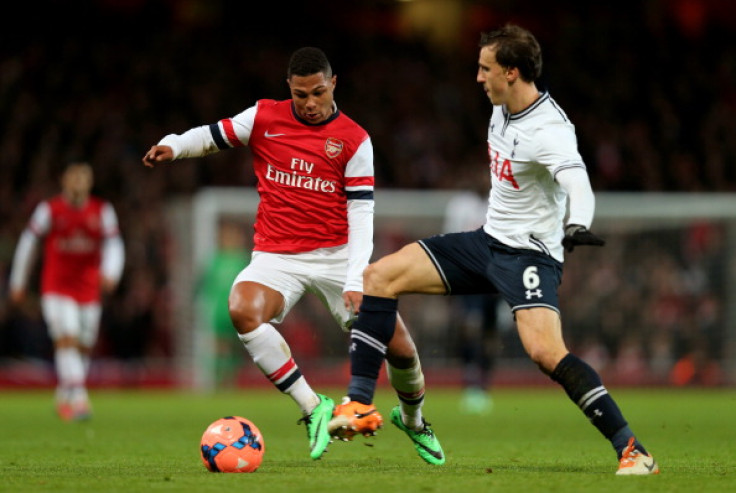 West Bromwich Albion manager Tony Pulis is reportedly keen on taking Arsenal midfielder Serge Gnabry on a season-long loan, according to a report in the Mirror.
The repot claims that, the Gunners are willing to allow the German to leave the club on a temporary basis as Arsene Wenger is keen for Gnabry to get some first-team football under his belt.
The 20-year-old midfielder had a breakthrough season during the 2013/14 campaign after joining Arsenal in 2011 from Bundesliga club Stuttgart. However, a knee injury at the end of that campaign saw him fail to make a single appearance during the 2014/15 campaign.
Gnabry has since returned from injury and will be ready to get back into action for the first-team, but his path to a regular role in the senior squad is blocked by Alex Oxlade-Chamberlain, Theo Walcott and Alexis Sanchez, who are ahead of him in the pecking order, and thus the French manager is keen to send him on loan to a Premier League club.
The Hawthorns outfit were interested in signing Queens Park Rangers winger Matt Phillips, but the report claims that a potential takeover bid of the club has seen them struggle to come up with the £8m being demanded by the east London club.
Meanwhile, Arsenal midfielder Jack Wilshere, who missed a large chunk of last season through injury has revealed that he is feeling fitter every day.
The England international featured in both of the north London club's games during the Barclays Asia Trophy tournament, which Wenger's men won after beating Everton in the final on Saturday, 18 July.
"I'm feeling good. I've been back in training for two weeks now. I've played two games and there are another two games coming up next weekend after another tough week of training, so I'm feeling good," Wilshere told Arsenal's official site.
"I think you feel better day by day. The fitness staff here are really good. They make the sessions individualised, so they know what you need in your position."
"Each session gets harder and harder. I'm feeling better and better and hopefully that can continue," the English midfielder added.