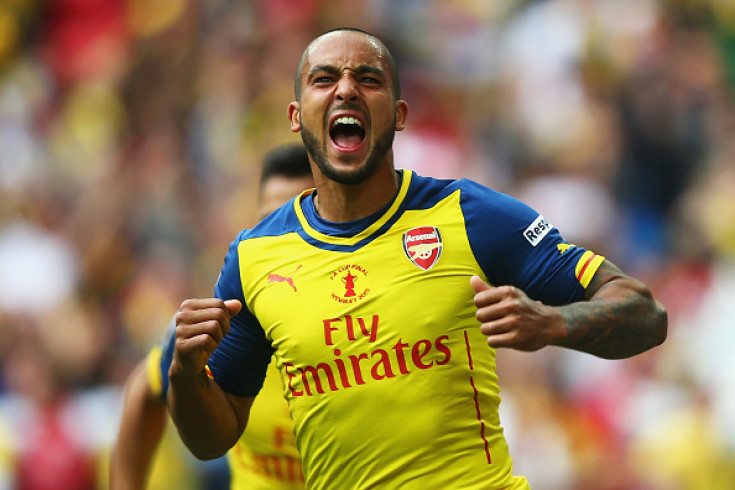 Arsenal star Theo Walcott says he reached on top by playing "with a free spirit." The forward also said he is still looking to develop his game as he wants to set new standards.
Arsene Wenger signed the England international from Southampton when he was 16. The Frenchman has played in multiple positions and the 26-year-old earlier admitted that he is open to playing across the front three.
Walcott has the most number of appearances for the Gunners in the current squad. The former Southampton man has also suggested that he is looking to learn from people around him.
"I've always played with a free spirit, I've always tried to have time for people and respect others. Also I'm a family man. That's who I am," Walcott told Arsenal's official website.
"I'm always looking to learn from other people and I've continued to do that. That's made me into a better person and a better player. I'm still looking to learn from others because I always want to push myself to the highest possible level."
The English forward came up through the ranks of Southampton's youth setup, before breaking into their first team in 2005. A year later, he made a switch to the north London club.
His move to Arsenal at a very young age had caught a lot of attention. Walcott also went on to thank his family for their sacrifices, which helped him develop as a player and settle quickly at the Emirates.
"From day one my family have been making sacrifices for me. When I was really young they always took me to training sessions at Southampton because they knew how important that was to me.
"My family have always been there for me and so supportive. Then when I joined Arsenal, and all the hype that was around it, my family helped me settle down in a house and sort out all the things that I needed to do, even though I was just 16. I had to grow up quickly, and they helped with that."