Ex-Manchester United and England defender Gary Neville has declared himself disappointed with Tottenham's performance in Saturday's north London derby. Spurs scored first through Togo striker Emmanuel Adebayor but succumbed to a poor 5-2 defeat to Arsenal, at the Emirates. And Neville feels Andre Villas-Boas' men have no excuse for the magnitude of the defeat, even if they did lose goal scorer Adebayor to a red card early in the first half.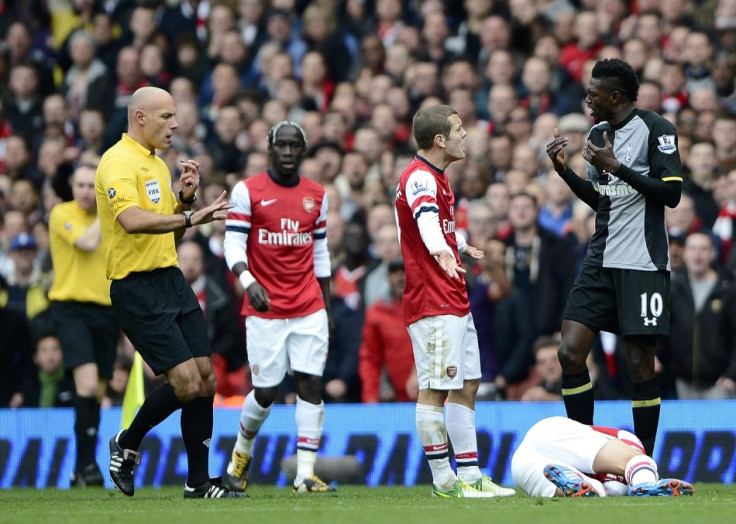 "Both Arsene Wenger and Andre Villas-Boas will have questions. Of course, the sending-off of Adebayor had a huge impact because, at that point, it looked like a serious contest for Arsenal. But Tottenham cannot point to the red card as the sole reason why they lost," Neville, now a coach for the England national team, wrote in a Daily Mail column.
The 37-year-old former Red Devil, who made 602 appearances for the Old Trafford club and won eight Premier League titles and a Champions League medal with Sir Alex Ferguson's outfit, explained that once they went down to ten men, AVB's side should have tightened play and been more responsible with the ball. He pointed to the 20-minute period leading to the end of the first half, when Per Mertesacker, Lukas Podolski and Olivier Giroud all scored to seal the win for the Gunners.
"Sending-offs happen. You can't just accept that it's game over at that point. You have to stay strong and stay in the game," Neville continued, adding, "Tottenham did well in the second half and showed some guts in the way they played, going to a back three, [but] I don't think their fans will be fooled by Villas-Boas's comments that they controlled the game."
The ex-Red Devil was referring to AVB's remarks that on the whole, Spurs were the better side in the match and controlled the game from start to finish.
"It's very easy to go and do 20, 25 passes against an opponent with 10 men playing three at the back. It's not a critique. It's something I respect. But it certainly wasn't this way for most of the game. We are proud of what we have done here," the former Chelsea boss insisted, "We were very, very good from the first minute to the last, with 11 men and with 10."
Finally, Neville also had critical comments on the Gunners, claiming the 5-2 victory disguised moments of nervousness and poor decision-making that, had they been playing against a full-strength and better organised team, might have cost them dearly.
"It was there at times, but not enough for you to feel Arsenal were always in control. Wenger will naturally be pleased with the win - but a man of his vast experience will know that there is still a long way to go before he can be truly happy with the performance," the defender concluded.