Arsenal summer signing Santi Cazorla has revealed he prefers the style of football in the Premier League over that in Spain's La Liga. The former Malaga playmaker admitted the Spanish style was more technical but also called it boring.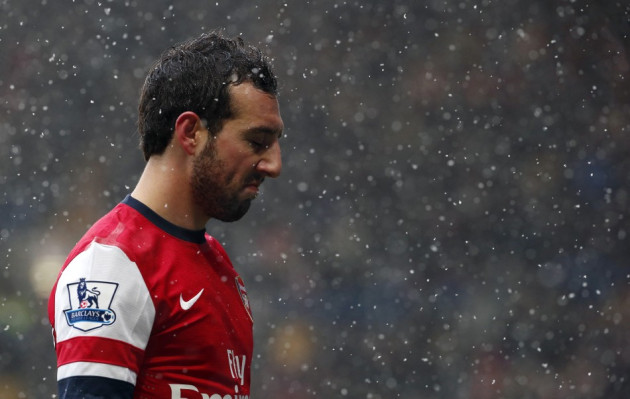 The 28-year-old Spain international has taken the Premier League by storm in his debut season, scoring 11 times and recording six assists in 26 league games. He played a crucial role in the Gunners' 2-1 win over relegation-threatened Aston Villa last weekend, scoring both goals.
"Compared to Spain, the football here is less tactical, but more fun to watch and play. There's too much technique in Spain and they are held back by it. This makes the match more boring. There's a better pace in England. There's also more space, especially for footballers like me, and more time to think. Teams always want to attack and score goals in England. In Spain they are locked down by tactics. And the atmosphere here is just amazing," Cazorla told the Daily Mail.
The Spaniard will face the Gunners' arch-rivals, Tottenham, in only his second north London derby on Sunday 3 March but will have happy memories to draw inspiration from - the last time he played them Arsenal won 5-2 and he had a hand in two of those goals.
Cazorla is careful to admit this is unlikely to be an easy game, with Andre Villas-Boas' men enjoying a four-point lead and unbeaten in 11 Premier League games. And he is aware of the potent threat of Welsh international Gareth Bale.
"If we lose it would be a difference of seven points, too big a gap. It's true we've been inconsistent. We didn't make it through in the Capital One Cup or the FA Cup but our aim is to be in the Champions League and hopefully we'll improve through the rest of the season. A win at Tottenham would invigorate the whole team. We're two points away from Chelsea but if we win this we will be one away from Tottenham," he said.