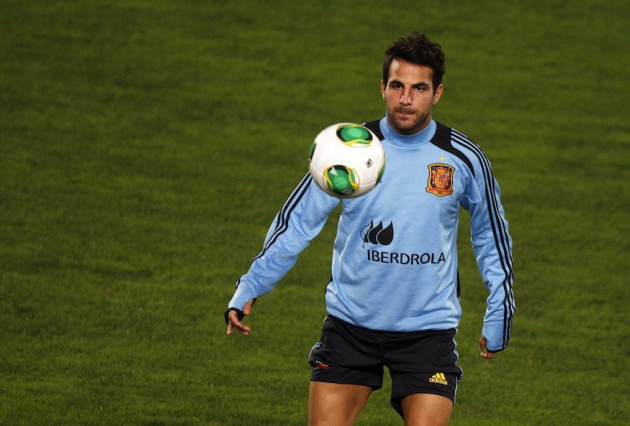 Arsene Wenger says he would welcome back Cesc Fabregas after the Barcelona midfielder claimed he wants to return to Arsenal in the future after shunning interest from Manchester United
Fabregas admitted in a tell-all interview that he still holds the Gunners very close to his heart and on the back of the side looking like serious Premier League contenders again he would consider a return to the club, possibly as a coach.
The midfielder was the subject of two official bids from United in the summer but insisted he is committed to fighting for his place at Barcelona.
The Catalan giants equally said they wanted to keep the Spain international and although David Moyes appears to have maintained his interest in the star it seems his only destination away from Barcelona will be Arsenal.
And Wenger said that he would welcome Fabregas back to the club with open arms, telling reporters: "I hope he is right that he will come back one day.
"It shows that he has kept fond memories of this club and I am happy that players who have his intelligence and knowledge will come back some day. I will watch them from up there somewhere."
Wenger also explained that he believed many of the players who have left over the years did so because they became impatient about winning silverware, with the manager hinting this is why van Persie departed for United in the summer of 2012.
"Some players [who left], sometimes were impatient," the Arsenal manager explained.
"When they reach near 30, if they feel they cannot win the Premier League, they go somewhere where they feel they can win it.
"If we added all the players who have left, I would have a selection problem, but I still have one because I have plenty of good players now.
"Cesc was a different situation because he left Barcelona when he was 16, he is a Barcelona boy and Barcelona had the best team in the world. It was a little bit different."
Arsenal's squad has been particularly short in depth recent seasons but the side are now at the top of the Premier League table and showing much fight in the so-called Champions League 'group of death'. And should Fabregas make a return to the Emirates he could see a side having finally broken it's trophyless spell if their good form continues.