Arsenal boss Arsene Wenger is confident Abou Diaby can replace Alex Song in the heart of the Gunners' midfield.
The 26 year old, who has returned from a long-term injury, has started all three games so far this season and was made Man of the Match for his performance in the club's 2-0 win against Liverpool. The north London outfit failed to sign a replacement for Song, who left for Barcelona in the summer, but Wenger feels Diaby can now fill the Cameroonian's shoes.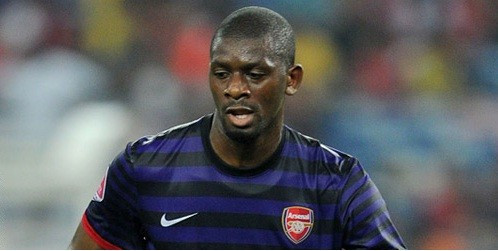 "If he is fit and healthy then of course he has the talent [to replace Song] that you have seen. And of course there is more to come but let's touch wood and hope it goes well in the next two or three weeks for him," talkSport quoted the 62 year old as saying.
Wenger also hailed the France international's efforts to recover from prolonged injury issues and claimed the player could now be a key component in the new-look Arsenal line-up.
"You can see that Diaby is massive for us. He is a tremendous football player who has everything you want in midfield. He hasn't played a full game for a year, but he had a good pre-season and we just gave him 45 minutes every three days. Now he looks, physically, in a good shape. There is more to come from him, but what he has shown today is very good. I was highly worried about him while he was out, but I always stood behind him because he is a fantastic guy as well as a fantastic player," the Telegraph quoted Wenger as explaining.
Diaby has been called up by new France coach Didier Deschamps for the World Cup qualifiers against Finland and Belarus. The midfielder has not played for Les Blues in more than a year, after being sidelined with injuries and making just five appearances in all competitions for Arsenal last season.
"Diaby has enormous potential. He had a disastrous season last year but he has done a full pre-season and has completed 90 minutes. He is a very fragile player but he seems to be on the right track and I hope that nothing will hold him back now," Sky Sports quoted Deschamps as saying.
Diaby will join Arsenal team mates Laurent Koscielny and Olivier Giroud in the French squad.