Andre Santos has admitted disappointment at his Arsenal return. The 30-year-old left-back spent the second half of the 2012/13 season on loan to Brazilian club Grêmio, after failing to establish himself in the Emirates' first team. The South Americans have now confirmed they will not look to transfer Santos from north London.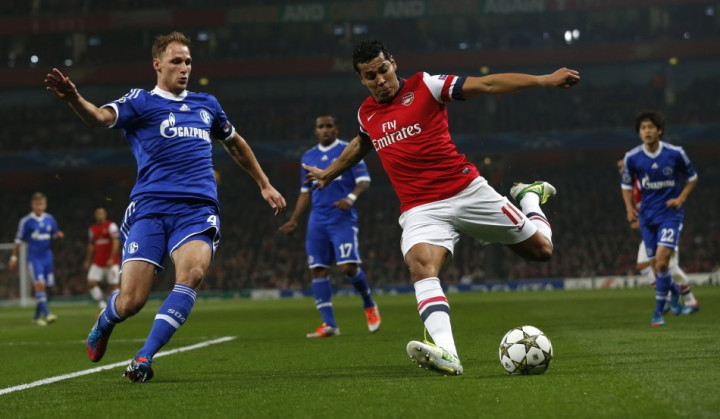 "It would be too expensive for Grêmio to renew his contract; he is a very expensive player. We thank him for everything he has done, but we will keep Alex Telles and Fabio Aurelio," Marcos Chitolina, director of football, told UOL.
Santos, meanwhile, has also acknowledged he will be returning to the Premier League and stressed that while he respected the fact he was still contracted to the Gunners, he would have preferred to remain in Brazil.
"My loan is over. It was six months and now I am returning. I wanted to stay. Grêmio were fair regarding everything. I felt well there and I wanted to win a title before leaving. Unfortunately there is no deal and I had to return to Arsenal," he told Radio Grenal.
The former Fenerbahce player was a last-minute €7m summer signing by Arsene Wenger in 2011, to appease fans disgruntled by the high-profile exits of French international Samir Nasri and Spain's Cesc Fabregas.
Unfortunately for Santos, he failed to establish himself in his first season in north London, making only 10 Premier League starts and coming under heavy criticism for poor performances
And his situation at the Emirates worsened earlier this season, after the shirt-swapping episode with former Arsenal skipper Robin van Persie. As a result, he was loaned out Grêmio in the mid-season window, for whom he made eight appearances in the Copa Liberadores and scored once.
Wenger presently has two left-backs available to him, excluding Santos. England international Kieran Gibbs and Spain's Nacho Monreal will both be comfortably ahead of Santos in the pecking order, should the Brazilian stay at Arsenal for the new season.
The long-serving Arsenal boss could attempt a creative solution though - he could push Santos up to play as a winger or in attacking position on the flank, given rumours linking Ivory Coast wide-man Gervinho with a move to Ligue 1 club Olympique Marseille.
More probably, though, Santos will be loaned out again and be allowed to leave on a free transfer when his contract expires... unless there is a transfer fee for him this summer.