Arsenal are preparing an ambitious double bid for Real Madrid pair Angel di Maria and Frenchman Karim Benzema, according to the BBC. The report claims Arsene Wenger will offer up to £40m for the French international striker alone.
However, it remains to be seen if the Spanish giants are willing to lose Benzema, who is now their only senior striker following the sale of Argentina's Gonzalo Higuain to Napoli. Di Maria's availability is equally doubtful, given Portugal star Cristiano Ronaldo has reportedly asked for assurances regarding the Argentine staying at the Santiago Bernabeu.
Nevertheless, the report claims Arsenal plan to be extremely busy during the final fortnight of the summer transfer window and could spend up to £100m on new players.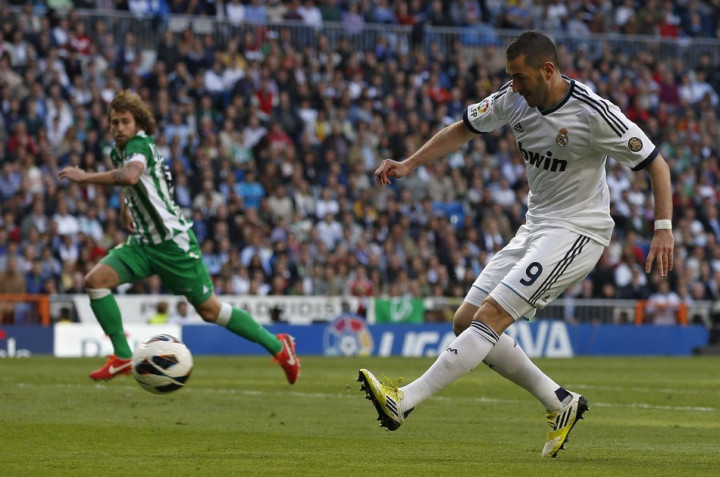 Arsenal have been heavily criticised this summer for spending next to nothing to reinforce the first team at the Emirates, despite all the evidence suggesting considerable investment is needed to challenge for trophies once again.
Key players like Jack Wilshere and Mikel Arteta have been quoted as calling for new signings to boost quality and competitiveness in the first team, calls echoed by former players like ex-captain Tony Adams. And Wenger believes Benzema could be the answer to those calls.
The Arsenal boss is a known admirer of the former Olympique Lyon star and tracked him two years ago but never made a bid. Now however, with Madrid keen on Tottenham winger Gareth Bale (who the Mirror believes could cost Madrid €100m), Wenger may look to lure Benzema and Di Maria from the Spanish capital.
"He's [Benzema] a player that I like. I think he's intelligent in his movement, I think he is capable of combining well and making a difference, and of doing individual moves as well. So, for me he's a player who's at the top level in the world," Wenger said of the 25-year-old striker.
Meanwhile, Di Maria's arrival, should it come to pass, will offer Wenger much-needed width to his attacking play. The Argentine, who has a reputation for pace and excellent ball control, will replace Ivory Coast international Gervinho in the Gunners' first team.