Arsenal have been linked to France striker Karim Benzema by the Telegraph, after reportedly facing a setback in the race to sign Fiorentina forward Stevan Jovetic. Arsene Wenger is believed to have made a £23.7m bid for the Montenegrin international but the player's agent claims his client wants to remain in the Serie A.
Fali Ramadani's comment [Jovetic's agent] that "Stevan prefers to stay in Italy rather than move away" will boost Serie A champions Juventus' hopes of signing a player who has 13 goals and five assists from 31 starts this season.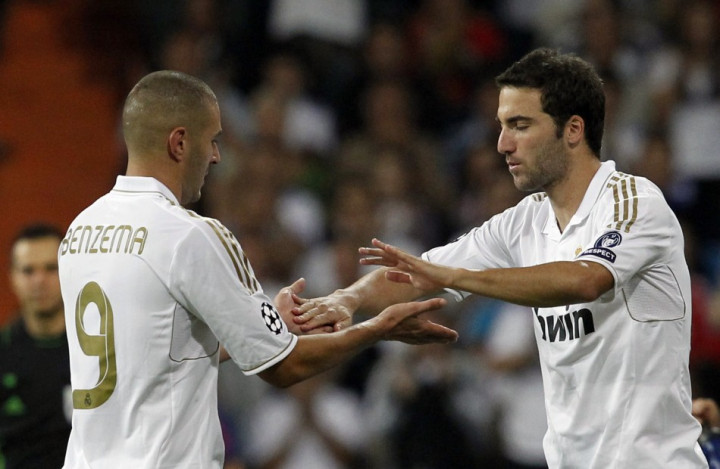 As a result, Wenger could now be forced to consider alternatives for the summer signing. The Gunners have been strongly linked to the Real Madrid striker's team mate as well - Gonzalo Higuain. The 25-year-old Argentine international is almost certain to leave the Santiago Bernabeu in the summer, with a €22m switch to the Emirates. Higuain has 14 goals and five assists from 26 La Liga games so far this season and has also been linked to Tottenham.
Wenger has a long-standing interest in Benzema and the Metro linked him to his compatriot late last year, after it emerged Madrid could launch a bid for Atlético Madrid's Radamel Falcao.
Benzema has 10 goals and as many assists from 29 league games this season and has been the preferred striker under outgoing manager José Mourinho.
Higuain or Benzema?
The prospect of seeing both of Madrid's star strikers in north London next season is enticing. Wenger certainly has the financial resources, this year, to afford the two stars. Realistically though, it is almost impossible.
The major reason why Higuain is leaving the Bernabeu is because he does not want to share first team status with Benzema. And the Argentine is unlikely to willingly walk into absolutely the same situation at a new club.
It will be either one or the other for Wenger and Arsenal. And as to which will be a better signing... the jury is out.
Benzema has shown better first touch and an ability to link up with the breakneck counterattacks of Cristiano Ronaldo, Mesut Ozil and Angel di Maria. Higuain, on the other hand, is not quite as technically gifted but is perhaps a more energetic forward, willing to chase down loose balls and track back.
More importantly, of the two, Madrid have given no indication Benzema will be leaving. Indeed, the only specific note concerned Higuain. Expect the Frenchman, therefore, to remain in the Spanish capital for next season.