Arsenal are close to a £19m deal for Real Madrid striker Gonzalo Higuain. The Sun believes Arsene Wenger has met the Argentine and his agent and is looking to complete the deal as soon as possible.
The Gunners are believed to be favourites to sign Higuain, following a report by the Mail Online that Serie A champions Juventus, who were also interested in the forward, may be more interested in his compatriot, Carlos Tevez. The Manchester City forward has only 12 months left on his Etihad agreement and has yet to sign an extension.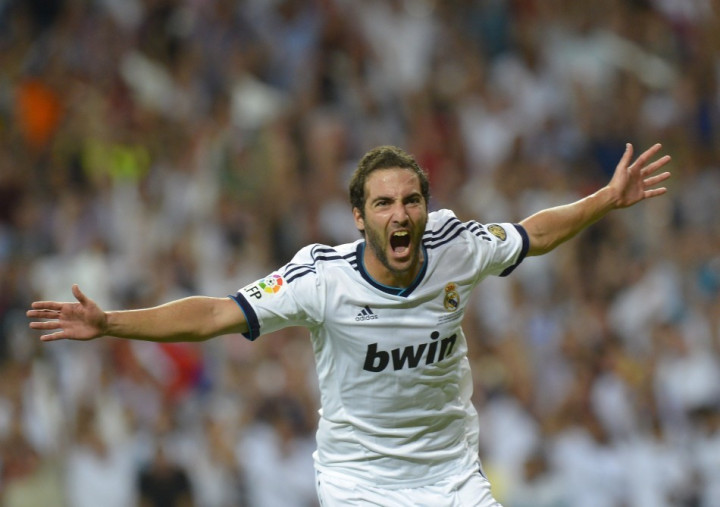 However, according to The Sun, the Bianconieri have spoken to Higuain as well, meaning Wenger still has work to do before he can consider the Madrid man his player. Juventus will sign Spaniard Fernando Llorente from Athletic Bilbao this summer, meaning they will probably want at least one more striker to mount a challenge for the Champions League next year.
The good news for the north London side is the 25-year-old is open to joining them. However, the question mark will be over the player's wages. Higuain, who scored 16 goals in 28 La Liga games in the 2012/13 season, will reportedly ask for £150,000 per week, which will smash the club's existing wage structure.
And if we factor in reports that Arsenal have made a club record £22m bid for Everton star Marouane Fellaini, the club's promise of major spending this summer may well be true. However, the reality is that all of this remains speculation for the moment, with chief executive Ivan Gazidis claiming, as he has in recent seasons, that although there are funds available, the final decision will always be taken by Wenger.
Meanwhile, despite earlier comments to the contrary, Madrid have reportedly told Higuain he can leave, if the offer is acceptable. Higuain is understood to be unhappy with life at the Santiago Bernabeu and unwilling to share the striker's role with France international Karim Benzema.