Former Tottenham and Manchester United striker Terry Gibson believes Arsenal will do extremely well if they manage to secure Gonzalo Higuain from Real Madrid this summer. The Gunners are reported to have agreed personal terms with the player and are waiting for the Spanish giants to appoint a manager in order to complete a move to the Emirates.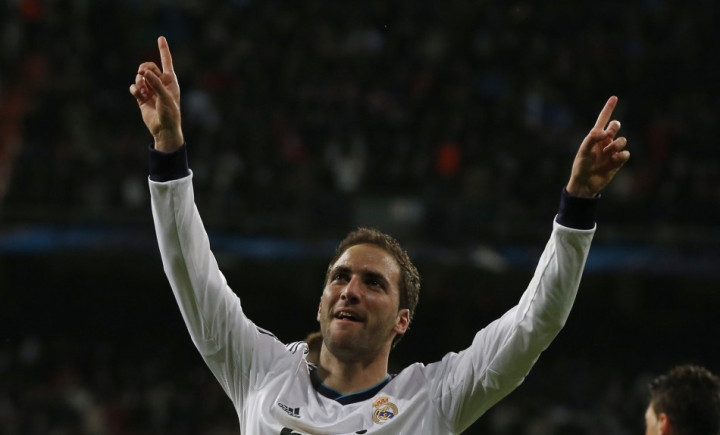 "Arsenal are getting a very good player. I'm amazed Real Madrid are considering selling him. He's 25 years old, so he's only going to get better. He's been a great player for Real Madrid. Sometimes clubs and supporters get bored with the same strikers. I don't see any reason why Higuain would leave. If Arsenal could get him for under £20 million then that's a steal," he said.
Arsene Wenger is believed to have been handed £70m to spend this summer and the Frenchman is in the market for a proven goal scorer to replace Robin van Persie, who left the club last year.
Higuain, who scored 16 goals in only 19 league starts for Real Madrid last season, has been identified as the man and Gibson believes the player will match the likes of Luis Suarez and Edinson Cavani if he moves to Arsenal.
"Real Madrid are set for major changes, they're talking about signing Edinson Cavani and Luis Suarez but, for me, Higuain would match up to those two and is proven at Real Madrid. He's perfectly suited for the Premier League. He's got a good physique, is a really tidy all-round footballer and a great finisher. He'll settle in the Premier League well with his style of play. He's not a Lionel Messi or a Cristiano Ronaldo, he's more of a Radamel Falcao, just an out-and-out number nine," he explained.
"He's what Arsenal need. They have a lot of players who can keep and move the ball but they need a focal point up front and he can provide that," he added.
Arsenal are looking to spend big to end an eight-season trophy drought. The Gunners are also looking to bring in Everton midfielder Marouane Fellaini as replacement for Alex Song to strengthen their midfield.