Arsenal news: Alexis Sanchez hits back at 'bad winners' Uruguay after playing 90 minutes in defeat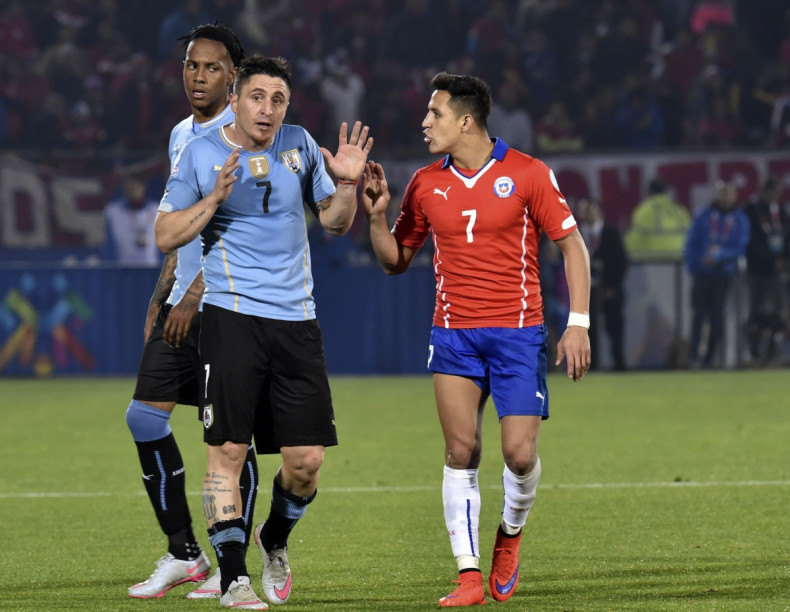 Alexis Sanchez has slammed the Uruguay national team for their poor sportsmanship in winning, after his Chile team were beaten 3-0 in a controversial game played in Montevideo on 17 November. The Arsenal star failed to give an update on his fitness but played a full 90 minutes for the second time in four days despite concerns over his condition.
Chile coach Jorge Sampaoli had claimed prior to the match that the Gunner was a significant doubt, having been unable to train during the week due to a calf issue. However, Sanchez completed the match, an ill-tempered affair with eight players, including the Arsenal star, booked and Jorge Valdivia receiving a post-match red card, apparently for dissent towards Colombian referee Wilmar Roldan.
Sanchez took to his Instagram account to send shots at their rivals for their behaviour, making sure to remind them that Chile are the reigning champions of South America following their summer Copa America win.
"One must know how to win and how to lose, and how to speak when you win and speak when you lose," the 26-year-old forward wrote under a photo of the Chile team. "But what bothers me is that current and past Uruguay players speak without recognising that they lost and that bothers me. Today we lost, and I congratulate Uruguay. It's goodbye from the champions of the Americas."
The World Cup 2018 qualifier was the first game between the two nations since Chile beat the Uruguayans in an ill-tempered match last summer, which featured Gonzalo Jara sticking his finger up Edinson Cavani's backside.