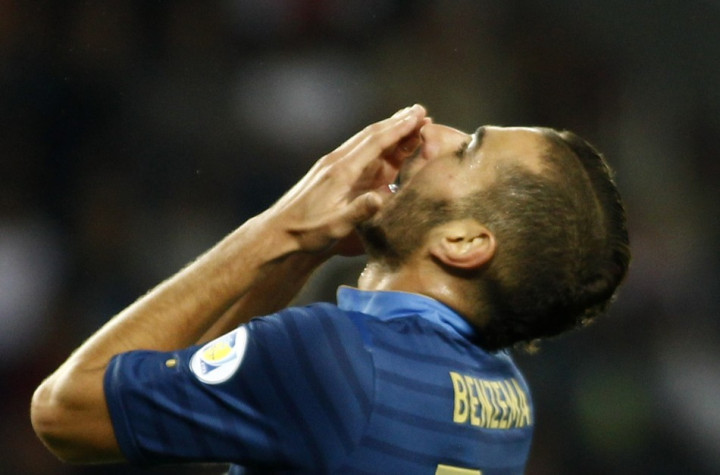 Karim Benzema has admitted that the last few weeks have been difficult as Real Madrid fans whistled and jeered the striker for a perceived lack of effort but the Arsenal target also claimed he is happy at the club.
Carlo Ancelotti scolded Benzema for what he believed was a lack of work during the side's recent 3-1 victory over Athletic Bilbao, insisting that the star could learn a lot from fellow teammate Angel Di Maria whom the supporters loudly cheered throughout the game.
"Today one thing was very clear," Ancelotti said. "Benzema was whistled a bit, while Di Maria was applauded by whole stadium.
"The fans look closely at the players. It's a very clear sign for everyone that hard work is applauded."
However, Benzema has claimed that he's willing to fight for his place in the side despite rumours strongly claiming that he might be set for a move to Arsenal in January to join former Madrid star Mesut Ozil.
"It has been a difficult time," he told AS. "But I will try to change that quickly. There's no problem. I'm happy at the club and I work hard to play games like this."
Benzema was believed to be at the top of Arsene Wenger's wishlist for the next transfer window after the Arsenal manager failed to land a big-name striker in the summer.
The Gunners are looking particularly thin on the ground when it comes to forwards as Olivier Giroud and Nicklas Bendtner are their only outright strikers and Benzema would certainly offer a boost to the squad, particularly as he can link up with Ozil whom he has played alongside at Madrid for three years.
While the France international insists he is happy at Madrid now, Ozil was equally insistent that he wanted to stay in the Spanish capital before agreeing a deal with Arsenal in a matter of days as deadline day rolled around.