Arsenal have launched a £30m bid for Liverpool striker Luis Suarez, according to The Telegraph. The offer was immediately rejected by the Merseyside club who value the Uruguayan at much higher than what has been offered by Arsenal.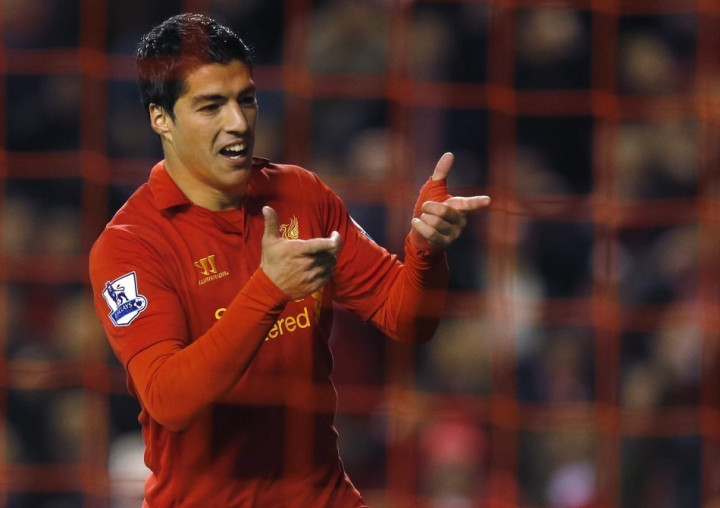 Suarez has been in the limelight since his transfer to Liverpool owing to his problems off the ball. The Uruguayan is currently serving a 10 game ban following his bite on Chelsea defender Branislav Ivanovic in a Premier League game last season. Should the 26-year-old extend his stay at Anfield or transfer to a club in the Premier League, he will miss the first six games of next season, having already served four matches on the side-lines. This is the second time that Suarez has been punished by the English FA, with the striker being handed an eight match ban in the 2011-12 season for racially abusing Manchester United defender Patrice Evra.
The player has revealed that he is frustrated by being continuously victimised by the English media and has openly talked about a move to Real Madrid who are also interested in the striker. A move to a club in the Premier League will rebuff his statements about the media which will also have an adverse effect on his reputation. Moreover, Liverpool are determined to keep the striker at the club in spite of speculations as they look to push for a top four spot next season.
The Gunners are looking to strengthen this season and are reportedly closing in on a deal for Real Madrid striker Gonzalo Higuain. However, the deal has encountered a setback, with Madrid reportedly wanting a £25.5m fee for the Argentine which Arsenal are not willing to match. A bid for Suarez may also be a smokescreen by Arsene Wenger to get the Higuain deal done quickly and at a lower price than the one demanded.
Chelsea are also reported to be monitoring the situation and are likely to move in into the race if the former Ajax man is made available. Wenger is also keeping a close watch on Manchester United striker Wayne Rooney who has been linked with a move out of the club. However, manager David Moyes has squashed rumours pertaining to the same and insisted that the striker will stay at Old Trafford.