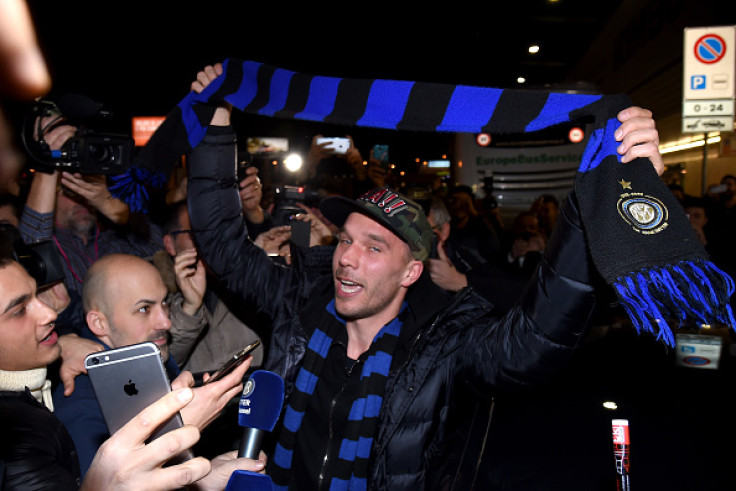 Arsenal forward Lukas Podolski is set to complete a loan move to Serie A side Inter Milan until the end of the season.
The German international striker has cut a frustrated figure at the north London club this season, as he has struggled to get regular game time and had failed to start even a single Premier League game this season.
Podolski has continually suggested that he will take stock of his future during the January transfer window, and it seems like he has got his wish following his arrival in Italy on Friday.
Earlier in the week, Arsene Wenger had dismissed the striker's sale to the Serie A club as a joke, but later revealed that they had made a more serious offer for the forward which was being considered.
"Look, the first proposal was farcical. Of course [we are open to discussion]. After they come back a bit more serious then we will see what happens. Inevitable in a transfer is very difficult to say, but we'll see what happens," Wenger said.
The former Cologne striker has revealed his joy at making the move to the Italian club, and has already set specific targets to achieve during his stay with Roberto Mancini's team.
"I spoke to Mancini and think he's a great coach. He wanted me and I'm happy to be here. I know Serie A, it's a very competitive League," Podolski said, as quoted by the Daily Mail.
"I want to help the team get into the Champions League. Do I have a message for the fans? I am happy, Forza Inter and we hope to have a great season."
The report claims that the Arsenal striker, who is contracted to the Gunners until 2016 is set to sign a loan deal until the end of the season, with Inter having the option of making the deal permanent in the summer.