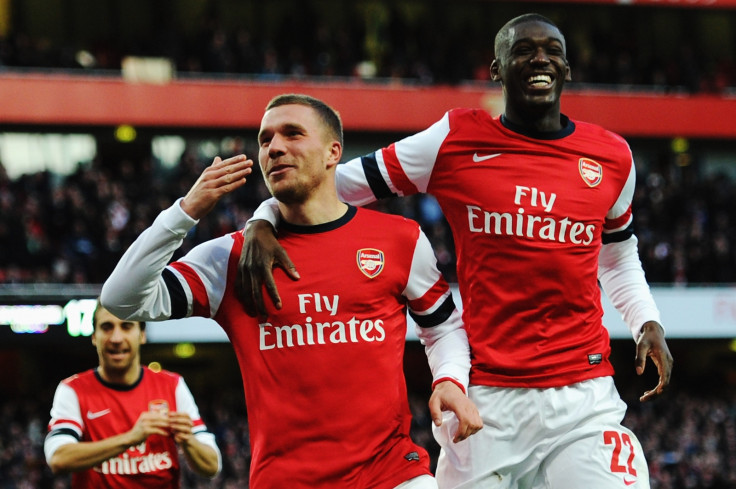 Arsenal strikers Lukas Podolski and Yaya Sanogo are on the brink of leaving the club during the January transfer window.
Inter Milan have been heavily linked with a move for Germany international Podolski, who has not made a single Premier League appearance this season and manager Arsene Wenger says a deal is possible.
Inter boss Roberto Mancini is open to Podolski joining from Arsenal and expects the 29-year-old to have an instant impact upon moving to Serie A.
"If you look back in history, Germans have always done superbly with Inter," Mancini said. "If he were to arrive, he would make for a good calling card for the club.
"I know him as a player, he can cover a variety of roles, he shoots splendidly, he's a World Champion. He comes from Bayern and Arsenal, he has great experience and quality."
Wenger had said Inter's initial offer for Podolski was "a joke" but the Gunners boss appears open to discussing terms with the Italian giants.
Speaking after the 2-0 Premier League defeat to Southampton, Wenger said: "Look, the first proposal was farcical. Of course [we are open to discussion]. After they come back a bit more serious then we will see what happens. Inevitable in a transfer is very difficult to say, but we'll see what happens."
Podolski is likely to spark a mass exodus from The Emirates Stadium in January which is expected to include France Under-21 international Yaya Sanogo, who made just two starts in the league this season.
Sanogo has been tipped to return to his French homeland in a loan deal until the end of the campaign after falling behind Olivier Giroud and Danny Welbeck in the pecking order at Arsenal, and Bordeaux boss Willy Sagnol is hopeful of securing a deal.
"We hope that it is on the right road," he said on a deal for the 21-year-old.
Wenger added earlier this week on Sanogo, who has one goal in five appearances in all competitions this term: "It is a possibility, and I would prefer him to go to a Premier League club.
"Sanogo is a goal scorer and he is not frightened. He is a guy who is naturally aggressive and in the modern game that is a vital quality."