Arsenal have made a £22m club record bid for Everton midfielder Marouane Fellaini, according to Goal.com. Fellaini had an excellent season in 2012/13 Premier League, scoring 11 goals and creating five more in 31 appearances.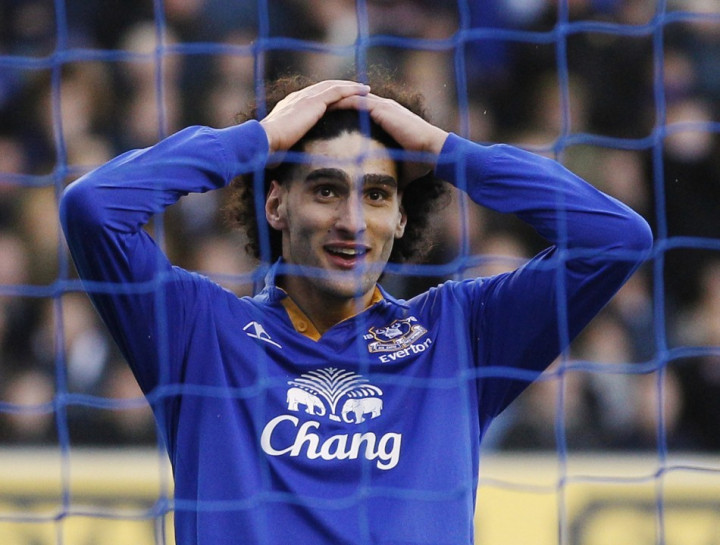 The Express has also linked the Belgian international to Europa League champions Chelsea and Premier League champions Manchester United; the last particularly so since it was revealed that Toffees' boss David Moyes will take charge at Old Trafford from next season.
However, the same report also quotes the 25-year-old as re-affirming his commitment to the Goodison Park club. He said: "My destiny lies at Everton. It's as simple as that. We're talking about one of the biggest clubs in England."
"I'm not staying for the sake of stability ahead of the World Cup - it's because I think Everton have exciting challenges ahead," he concluded.
The Belgian's comments came only hours before Everton chairman Bill Kenwright made initial contact with former Wigan boss Roberto Martinez. The 39-year-old Spaniard has since been confirmed as Moyes' replacement. And his first task will be to persuade Fellaini to act on his earlier comment.
The Gunners' bid for Fellaini was reportedly made after Martinez's appointment was announced. And it is likely his future will be settled swiftly, one way or the other.
Kenwright earlier admitted that Fellaini's future may not be in his hands, given the release clause. However, he has also stressed that Martinez will otherwise a full squad to work with, meaning England left-back Leighton Baines and young midfielder Ross Barkley, both of whom were linked with moves to United to re-join Moyes will be staying.
"We all know there's a player who's got an escape clause, but the others are not for sale. Not one person has even half-indicated to me that the change will mean a change for them. Exactly the opposite - they all seem totally committed to it," the 67-year-old explained.