Arsenal are planning a swoop for Swansea frontman Miguel Michu in the summer, according to the Daily Mail. The Spaniard has taken the Premier League by storm this season, since his transfer from Rayo Vallecano last summer.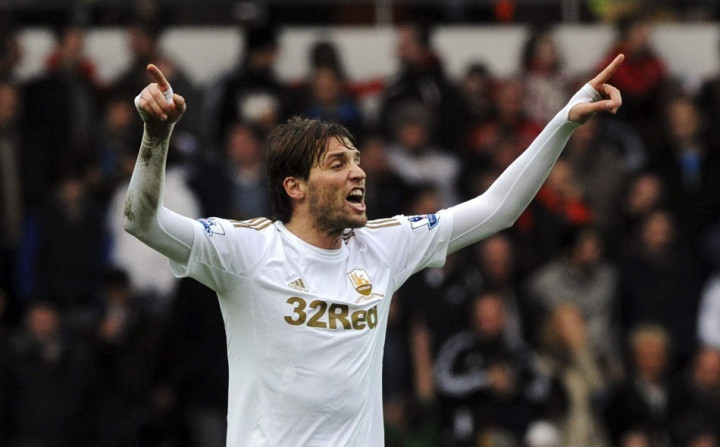 Arsene Wenger has made a striker his top priority this season and is keeping tabs on the likes of Stevan Jovetic, Gonzalo Higuain, Karim Benzema and Wayne Rooney for a move in the summer. The Spaniard has scored 22 goals in 41 starts in all competitions this season and has been heralded as the bargain of the season by experts. The 27-year-old has a wonderful record against Arsenal, scoring three goals in four appearances and has also played an important part in helping Swansea City lift the Capital One Cup.
Arsenal have been intensively scouting the forward and are likely to land a bid for the player in the near future. However, much will depend on the Gunners' ability to land their prime targets, with Fiorentina stating that they won't be selling Jovetic for anything less than £25.5m.
However, the North London club are believed to be hesitant to spend anything above £20m and are playing the waiting game. Wenger has recently hinted that the Gunners are also keen on Rooney and are reportedly ready to smash their wage structure to land the England international.
"Rooney could be an interesting player for everybody in the world, who would turn him down? David Moyes's first challenge is to go in to Manchester and bridge the gap between him and Rooney. If that is feasible or not depends on his personality and if Rooney bears a grudge or not, we will see. It will be interesting to see how that will be handled," he told Al Jazeera.
Michu is unlikely to come cheap either, with Swansea manager Michael Laudrup stating in an interview earlier in December that the player will be available for a fee in the range of £30m.
"I don't want to let him go, sometimes the offer can be so big you have to accept but I really don't think clubs are going to pay so much money for him. We have the example of what Liverpool paid for Joe Allen, if they have to pay double for Michu there are few clubs who could afford that," Laudrup said, citing Allen's transfer fee of £15m to Liverpool.