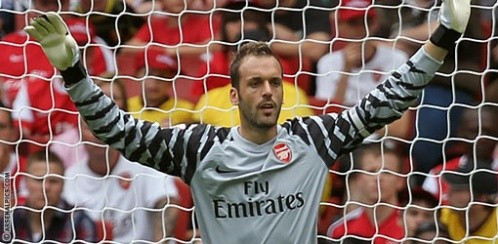 Arsenal are reportedly planning to let several fringe players go, so they have more funds to bring in fresh talent to the Emirates this summer, according to a report in The Telegraph. In spite of the club having enough funds remaining even after the arrival of German striker Lukas Podolski from FC Koln at a transfer fee of approximately £12mn, the Gunners are reportedly planning to cut down on their expenses in the form of player wages.
According to a report in ESPN, the Gunners have already planned to release seven players - Manuel Almunia, George Brislen-Hall, Gavin Hoyte, Sean McDermott, Rhys Murphy, James Campbell and Jeffrey Monakana this summer.
Apart from these players, Arsenal are ready to listen to offers for more than ten of their senor players, including Andrei Arshavin, Lukas Fabianski, Nicklas Bendtner, Carlos Vela, Sébastien Squillaci, Johan Djourou, Denilson, Marouane Chamakh and Ju-Young Park.
However, the Gunners will struggle to find clubs interested in these players especially due to their high wage demands. While Zenit St Petersburg are understood to be interested in permanently signing Andrei Arshavin, Carols Vela and Nicklas Bendtner could be moving to Espanyol and Borussia Dortmund respectively, according to The Daily Mail. Also, 27 year old Lukas Fabianski, who desperately wants to play first team football, is reportedly a target for newly promoted West Ham United.
With so many players heading out of the Emirates this summer, the Gunners will need to find the right players as replacements, who will be able to fit in the Arsenal squad.
The Gunners' main target this summer is reportedly Rennes midfielder Yann M'Vila. Apart from him, Arsenal have also stated their interest in Athletic Bilbao's 23 year old defensive midfielder Javi Martinez. Arsenal will decide on their expenditure (on new players) on the basis of who leaves or stays this summer.
Meanwhile, the Gunners will be desperate to hold on to captain Robin van Persie, who has said he will decide on his Arsenal future after the 2012 European Championships.
Arsenal will be hoping the Dutchman, unlike their previous skipper Cesc Fabregas (who left the Gunners for Barcelona last summer), will be extending his contract at the Emirates. Fabregas also feels van Persie should continue with the Gunners.
"As a fan of Arsenal, nothing would make me happier if he became the first captain to lift a trophy in eight or however many years it is for them," Fabregas was quoted by the Independent as saying.