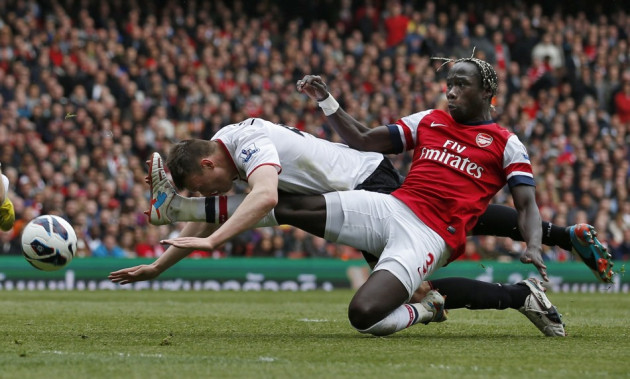 Bacary Sagna has admitted that he would be open to a move to either Monaco or Paris Saint Germain as the defender begins contract talks with Arsenal.
Sagna is entering into the final 12 months of his deal with the Gunners, and speculation has surrounded the France international's future for some time.
Wenger had a public bust-up with the star after he criticised their summer transfer policy in December last year, but the two look to have made up since, with the club willing to discuss an extension.
But Sagna is leaving the door open to the possibility of a move back to his home country, telling L'Equipe: "There are [talks], but I still haven't extended my contract. I'm talking. I'm not at a bad club either.
"It's possible [that I'll go to France]. We'd have to see in which conditions and, in sporting terms, what they propose. I won't go just anywhere.
"If I stay at Arsenal, I'll try to have a good season, there's the World Cup at the end of it. If I'm to leave, it'll be a new challenge."
Sagna's admittance that the 2014 World Cup is an important factor in his future will no doubt be an issue for many players over the course of the summer. The next season will be the last chance to prove themselves to their respective managers for the chance to travel to Brazil.
The 30 year old featured in 31 games for Arsenal this season, and while the north London club can offer Champions League football, he could find that at Monaco there is more of an opportunity to become an integral member of the squad.
And in PSG's case, the offer of a club who won the Ligue 1 title last season, and pushed Barcelona to the dying minutes in the Champions League quarter final may be hard to refuse.