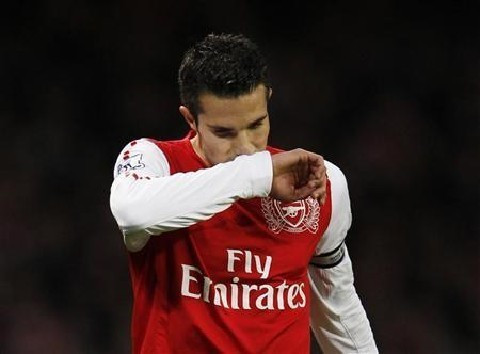 Arsenal have not given up on convincing club captain and star striker Robin van Persie to sign a new contract.
The Dutchman has reportedly been impressed by the progress the club has made in strengthening its ranks since his announcement to quit and it has prompted a shift in his exit plan, according to the Daily Star. Spanish playmaker Santi Cazorla is understood to have completed a move to Arsenal from Malaga, while Real Madrid and Turkey midfielder Nuri Sahin is reportedly close to making a season-long loan switch to the north London outfit. The club signed Germany forward Lukas Podolski and France striker Olivier Giroud earlier in the summer.
When van Persie announced last month that he would not sign an extension to a contract that runs out next year, the striker pointed out that he disagreed about the way Arsenal should move forward and was unhappy with the club's future strategy and policy. But now the team looks stronger and the prospect of leading a formidable 4-2-3-1 attack - in which Podolski, Giroud, Cazorla, Gervinho, Theo Walcott, Alex Oxlade-Chamberlain, Tomas Rosicky and Aaron Ramsey could compete for the attacking slots and Sahin, Mikel Arteta, Alex Song, Jack Wilshere and Abou Diaby fight for the two central midfield positions - could persuade van Persie to make a Wayne Rooney-like U-turn.
It is understood that the summer signings have instilled a fresh and positive energy at Arsenal as the squad now look like genuine contenders for a trophy, with existing players well aware that Carzola, Podolski, Giroud and Sahin (should he make the move) are massive talents.
The report also says van Persie has been un­impressed by the way ­his potential suitors - Manchester United, ­Manchester City and ­Juventus - have dragged out negotiations and is now considering pulling the plug on a move away from the Emirates. According to the Daily Mirror, the 28-year-old will join the Arsenal squad at their training camp in Germany next week, ahead of a pre-season friendly against Podolski's former club FC Cologne on 12 August.
The news at last sounds positive for Arsenal, but the club still has a long way to go to tie van Persie to a new long-term contract.