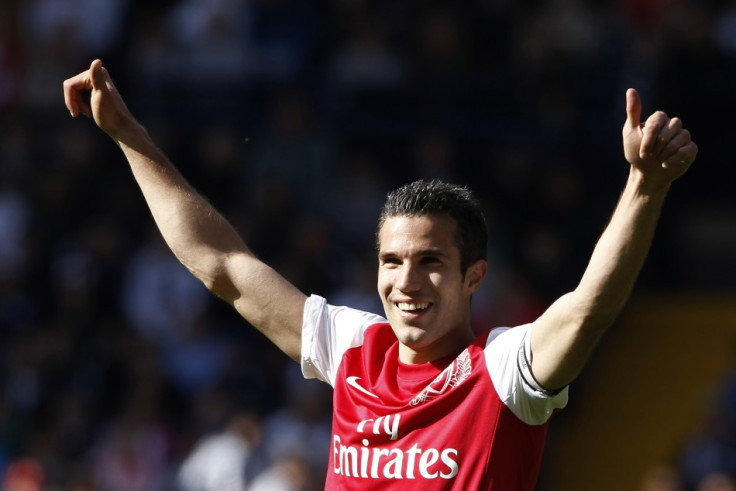 Arsenal captain Robin van Persie has revealed he is set to hold talks with the Gunners next week, regarding his long-term future. The north London club won 3-2 at West Brom to secure third place in the Premier League and guarantee a spot in the 2012/13 Champions League group stages.
After the game, the Dutchman, who has only one year left on his contract with the club, indicated he was ready to extend his deal and put an end to speculation regarding a possible transfer away.
"We will have a chat next week somewhere with the boss [Wenger] and Ivan Gazidis," a BBC report quoted van Persie as saying. The 28 year old did, however, say he was unsure about both the results of the meeting and how quickly it could be sorted out. He did also add his respect and love for the club would never diminish.
"You never know but Arsenal is a massive club, a great club. I have been playing here for eight years and I love this club. Whatever happens that will never change," said the striker. The club captain also commented on qualifying for the Champions League and finishing above fierce rivals Tottenham, saying they were both achievements he was proud of.
"It [Champions League] is vital. The best thing is that we stay in front of Spurs. They won today but it didn't matter. The main thing was coming third and we did it, so we can be very proud," he explained.
Meanwhile, French centre back Laurent Koscielny, who scored the winner in the Gunners' last game of the season, said he was confident van Persie would remain at the club next season.
"He will be here next season. He was a fantastic captain, he was so important for us. He will be here scoring goals for us next season," the Frenchman said. A host of clubs across Europe including Premier League champions Manchester City and Serie A winners Juventus are believed to be monitoring van Persie's situation this summer.
Finally, West Brom manager Roy Hodgson praised the club and its fans after Sunday's game. Hodgson spent 15 months at the Hawthorns but will now leave the club to take charge of the English national team, ahead of the summer's 2012 European Championships.
"This is a fantastic football club with a great tradition and even in the rough times, I felt the fans were behind us. You deserve another year in the Premier League and I would like to thank all the staff and players for their support during this past 15 months," the Telegraph quoted Hodgson as saying. West Brom finished 10th in the league table with 47 points.