Arsene Wenger has criticised his players after a poor performance in Tuesday's Premier League fixture at Southampton. The Gunners kicked off the New Year with a below-par 1-1 draw against Nigel Adkins' men and Wenger lost little time in accusing Arsenal of a lack of desire and concentration.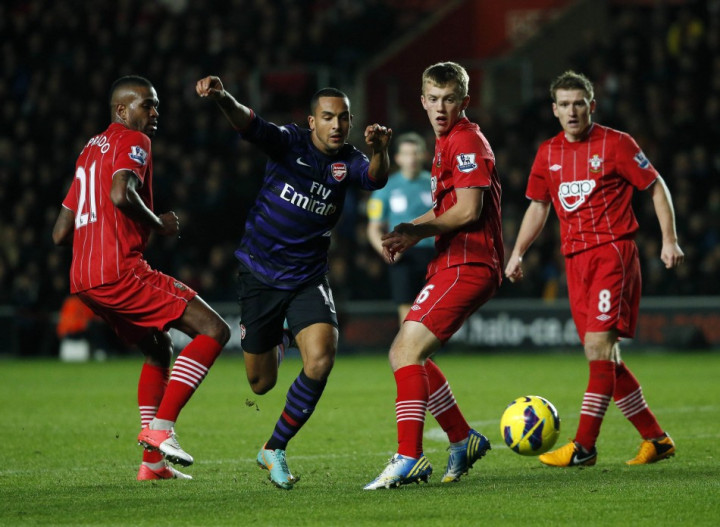 The result leaves the Emirates club fifth in the league, with 34 points from 20 games. The club does have a game in hand over north London rivals Tottenham but will need vastly improved results to compete with Spurs and Chelsea for the final two Champions League qualifying spots.
"We were not very good offensively, we didn't create enough chances. I felt we lacked sharpness and desire. It is frustrating. Our game lacked purpose, lacked penetration, lacked speed. All the qualities we have usually, we didn't see tonight. It was more mental than physical. It is frustrating," Wenger explained after the match at St Mary's.
The London club have been linked with a number of strikers in the mid-season window, in an attempt to revive their season's fortunes. The sale of last season's top goal scorer, Robin van Persie, and that of Cameroon midfielder Alex Song, have hit the club hard, with replacements proving to be inadequate and inconsistent.
Wenger was strongly linked with a second consecutive loan spell for former striker Thierry Henry, who has scored 228 goals in 377 appearances for the club. Early reports suggested a deal between Arsenal and the US' New York Red Bulls (for whom Henry now plays) was close to being completed. Wenger has now confirmed that transfer is unlikely but fans can expect new arrivals in north London.
"Thierry is not ready and has just come back from holiday. At the moment we are not on that case. He goes away somewhere. But I will be active in the market. We are looking everywhere, we are open minded. We want to strengthen the squad," he concluded.
Interest in Zaha Dropped
Meanwhile, Arsenal have reportedly dropped any interest in Crystal Palace youngster Wilfried Zaha. The 20 year old winger was believed to be set for a transfer tug-of-war between Manchester United and the Gunners, with Liverpool and Tottenham also lurking.
However, talkSport now reports 23 year old England international Theo Walcott has finally agreed a new deal with the club. The former Southampton youngster is in the final season of his contract and talks over an extension were believed to have failed after the club failed to assure Walcott of a central striker's role.