Arsenal manager Arsene Wenger has refused to rule out a second loan move for former striker Thierry Henry. The ex-France international left the Gunners to join Catalan giants Barcelona in 2007 and then moved to Major League Soccer (MLS) club New York Red Bulls in 2010. However, the 35 year old returned briefly in January, for a two-month loan, to provide cover while Ivory Coast international Gervinho and Moroccan Marouane Chamakh were away at the 2012 African Cup of Nations. Henry has scored 228 times in 377 appearances for the north London club.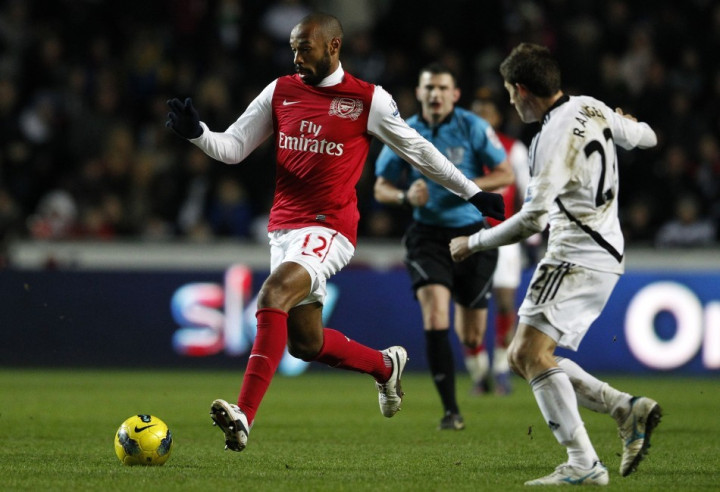 "He has been practising with us. Will I sign him again in January? I don't know. I don't rule it out. He is sharp. Last year I did it because we lost Gervinho. It was a good connection. This year we lose Gervinho again as they are playing in the Africa Cup of Nations two years in a row, so we will be confronted with a shortage," Wenger explained to the club's web site, "Particularly if Chamakh should go. I cannot stand in his way. Then we will be short," he said.
Henry did manage to add to his tally while on loan; most importantly scoring the winner in a Premier League match against Sunderland at the Stadium of Light. Wenger is expected to sign more players in January, with reports suggesting a £35m transfer fund and players like Athletic Bilbao's Fernando Llorente and Atletico Madrid's Adrian Lopez.
However, should Wenger actually sign Henry for the third time in his career, the biggest advantage could be in the dressing room, where the Frenchman's passion for the club and leadership abilities might rub off on the youngsters. Of particular importance in this regard will be England international Theo Walcott.
The 23 year old is out of contract at the end of the season and has stalled on extending his Emirates stay, with reports of disagreements over salary and playing position. Wenger has insisted he wants Walcott to stay on and the presence of an old friend in Henry might help the manager get his wish.
"You know what he [Henry] gives you. He gives you hope, especially when he comes on. That is the most important thing. He is a communicator. An extrovert. Very intelligent. He can only give good advice to players because he was in their position when he arrived here," Wenger added.