Gonzalo Higuain has declared himself ready to move to Arsenal in the summer. The Real Madrid striker has been linked with moves to both the Gunners and Serie A champions Juventus, following a statement from the Spanish club's general manager, Jose Angel Sanchez.
The 25-year-old was quoted: "Arsenal? They would suit me, I'm still young and I have goals."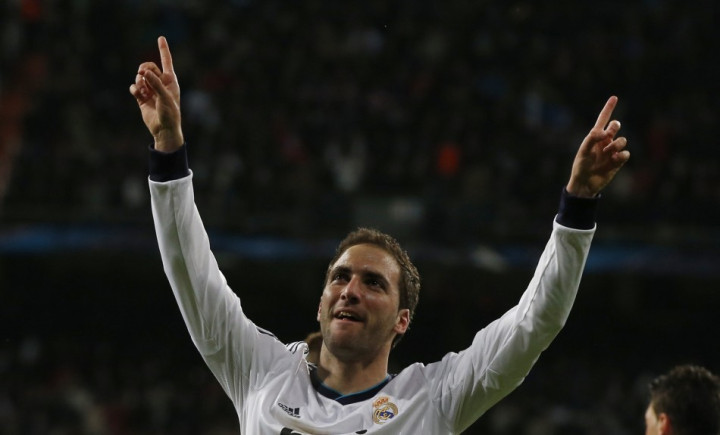 The Argentina international has also been quoted as saying: "I am leaving Real Madrid, I feel the time is right and I want a change of scenery. I have not decided where I will go, but the club already know that I want to go. It was my decision. I want to go where I can prove myself really."
"Yes, they [Juventus] are a possibility but I do not know. It [partnering Llorente] would be wonderful. We'll see what happens," he added.
Arsene Wenger has, in turn, been strongly linked with a move for Montenegrin striker Stevan Jovetic. However, the Fiorentina forward is believed to have a £25m valuation; the Gunners will offer only £20m. The Premier League side have also been linked to Madrid's Karim Benzema and Manchester United's Wayne Rooney.
Meanwhile, Madrid president Florentino Perez has insisted his Higuain will remain at the club for next season and denied formal contact from Juventus.
"Higuain is absolutely wrong that the club has put him up for sale. He has said he wants to go [but] has no offers. I'll talk to him. At this club, if you want to go, you know what to do - meet the clause. Juve is a friend and did not say anything to us, so we are surprised," Perez said.
The revelation comes days after Higuain had insisted that he will leave the club this summer and revealed that a move to Juventus could be on the agenda.
Jupp Heynckes Rules Out Madrid Move
In other news from the Spanish capital, former Bayern Munich boss Jupp Heynckes has ruled out returning to the Bernabeu for a second spell in charge. The nine-time European champions sacked José Mourinho at the end of last season and were believed to be considering the 68-year-old German as their new manager.
'I want to reach back a bit," he explained, "After losing the Champions League final [against Chelsea in 2012] I was utterly disappointed, having worked with the same power that year. It takes you to the limit. I told my wife that I want to fulfil my contract and then not continue at Bayern."