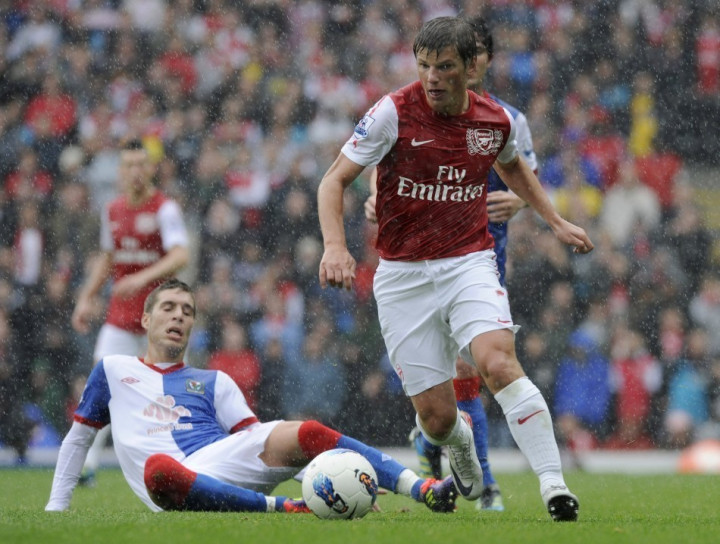 Arsene Wenger has defended Russian midfielder Andrei Arshavin's form, potential and commitment. The former Zenit St Petersburg player has yet to start a game for the Gunners this season but could do so when the Gunners host Coventry City in the Capital One Cup. The midfielder is presently in the final year of his contract and will be available for next summer.
"I have personally a great respect for Andrei Arshavin because sometimes some wrong ideas are circulated about him - that he doesn't care, but it's completely the opposite. He's a 200 per cent professional who works very hard in training every day," Wenger stressed to the club's official Web site, adding, "I feel he's unhappy that he doesn't play because deeply he loves football and he practices every day with 100 per cent commitment. I'm happy to give him some competition on Wednesday night."
Arshavin was linked with moves away from the Emirates this summer, after failing to establish even a squad position in the Arsenal first team. The 31 year old spent part of last season on loan at former club Zenit and was expected to return to Russia this summer. There were offers from Dinamo Moscow but those were turned down. There were also reports the Gunners were ready to offer the midfielder on a free transfer.
The midfielder has earned a reputation for not working hard enough for the team and appearing uninterested in the side's fortunes. The most recent example would have been the game against Manchester United in January, in which the decision to bring Arshavin on for Alex Oxlade-Chamberlain cost Wenger the game.
Gnabry to Start?
Meanwhile, youngster Serge Gnabry has earned high praise from Wenger. The 17 year old winger has been included in the club's 25-man squad for this season's Champions League and featured during the first team's pre-season tour of Asia.
"Serge Gnabry is a great hope for the future, I rate him highly. If he continues his development, I think he could play in the first team this season. At the moment he needs to work and ensure he remains fit. He is in the category of Oxlade-Chamberlain and Walcott - guys who have great power, great pace and good dribbling skills," Wenger concluded.