FA Cup Final As it Happened: Arsenal 3-2 Hull City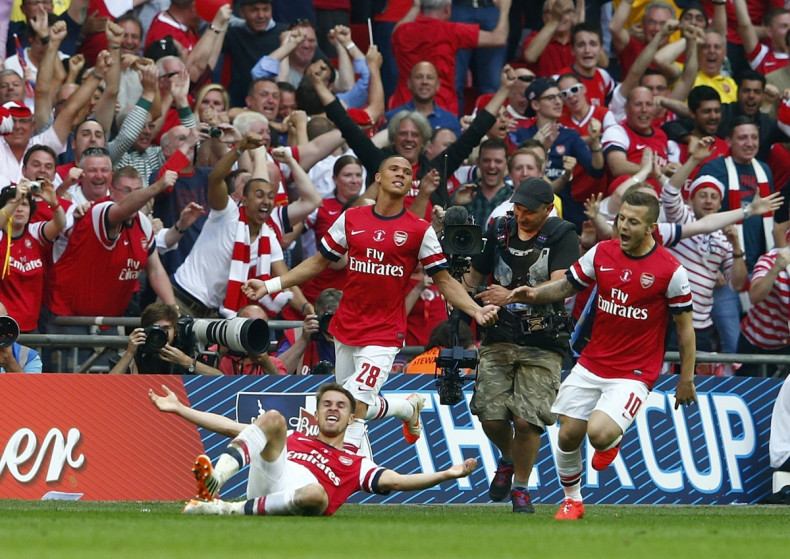 7:40: Nick Howson has our on the whistle match report live from Wembley avaliable here.
7:35: That's it! Arsenal's long wait for silverware is over thanks to Aaron Ramsey's extra time winner. What a phenomenal final that was.
ARSENAL WIN THE FA CUP
FULL TIME Arsenal 3-2 Hull City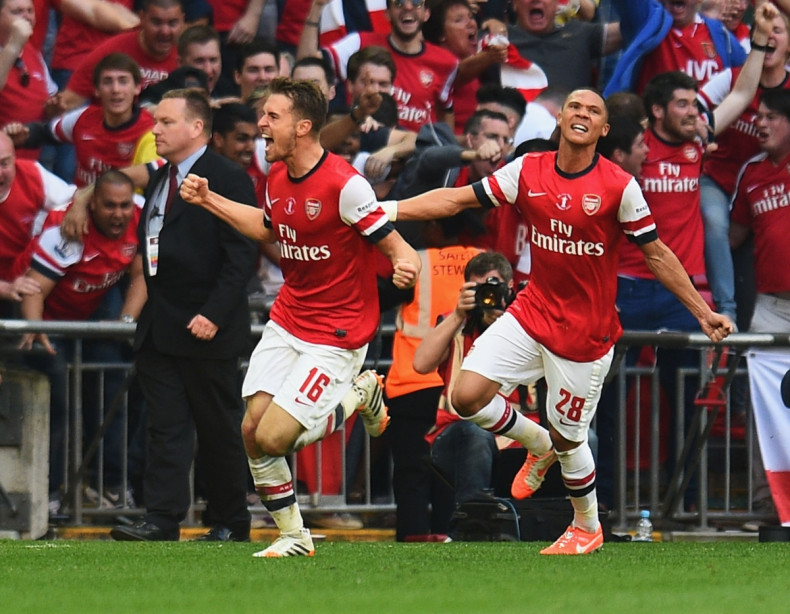 7:32: Arsenal are four on two and can finish this off as Rosicky attempts to pick a man out but his cross is hoofed away by Davies!
7:31: Aluko again lets off a shot from a good 25 yards out that Fabianski does well to get down and save from an unsighted position.
7:28: Nearly another Arsenal calamity! Mertesacker slips and allows Aluko to break with the ball down the left with Fabianksi onrushing way out of his goal! The Hull man clips the ball around him and hits a first time ball across goal that rolls across the line before going out for a goal kick! So close.
7:23: George Boyd attempts to make something happen after a free kick is launched into the box but under pressure he is crowded out and Arsenal clear.
7:21: Ramsey may have just secured Arsenal the FA Cup! The Gunners advance but a move into the box appears to break down, only for Giroud to recover it brilliantly with a neat back heel into the path of Ramsey on the edge of the area, who stabs an exquisite finish into the back of the net!
Goal! Arsenal 3-2 Hull City (Aaron Ramsey, 118)
7:19: Wilshere's fresh legs immediately has an effect as he breaks inside the right of the box but his attempted one two with Sanogo breaks down following the Frenchman's poor touch.
7:17: What a boost for Arsenal, Tomas Rosicky and Jack Wilshere are on for Mesut Ozil and Santi Cazorla. 15 minutes and then penalties.
Nick Howson at Wembley
Half time in extra time and unless Arsenal can find their way through a weary looking Hull then we're heading for the dreaded penalty shoot-out. You fancy Steve Bruce would take that now if you offered it to him."
HALF TIME IN EXTRA TIME - Arsenal 2-2 Hull City
7:14: The ball falls to Cazorla just outside the Arsenal and he tries to bend one over the crowd of players in the box and into the top corner, but it's poorly hit and flies over the bar.
7:12: Sanogo neatly clips the ball through his marker's legs but isn't quick enough to get on the end of it and eased out of the way by Davies. Moments later the ball is pinged in to the young Frenchman but his layoff is inaccurate and the chance is gone.
7:11: For a third time, Ramsey has a go on goal but this effort is the worst of the bunch and flies wildly over the bar. George Boyd comes onto replace Liam Rosenior.
7:09: Ramsey has another go, this time cutting in from the right after a neat exchange with Giroud, but can't get his foot around the shot and blasts into the side netting.
7:08: Livermore loses possession 25 yards out from goal and Ramsey threatens to punish, but his fizzing effort is straight at McGregor.
7:05: The moment when Laurent Koscielny got his side back level, putting his body on the line to ensure this contest continued.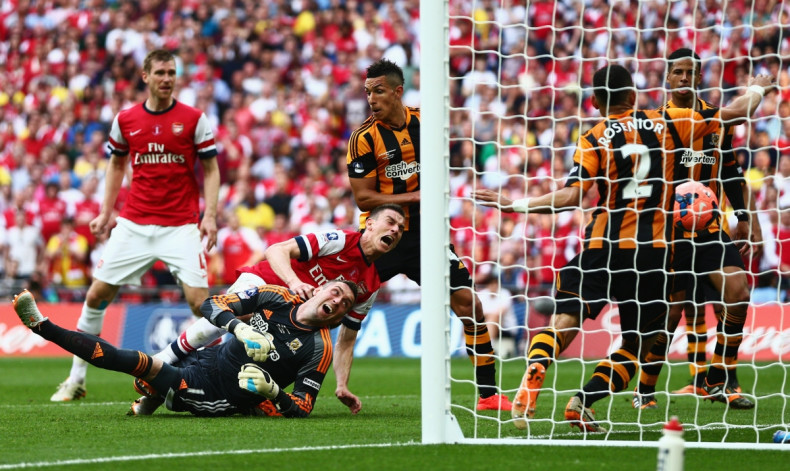 7:03: Giroud hits the bar! Curtis Davies slips, allowing Aaron Ramsey to embark on a run up the inside right channel. The Welshman clips a delighful cross into the box that Giroud hangs in the air to meet, but his header bounces back off the woodwork!
6:58: And we are back underway for another half hour of extra time and possibly penalties!
Nick Howson from Wembley
After an enthralling 90 minutes at Wembley, thank goodness we have another 30. Arsenal must be considered the favourites here after the physical demands exerted on Hull even after they took a two-goal lead. Song Aluko looks lively however, so hope for Hull isn't totally forlorn."
End of 90 Minutes
6:53: Five minutes added on here and Cazorla is almost brilliantly picked out by Ramsey on the counter but the Spaniard cannot take the ball in his stride.
6:49: Giroud chests the ball down into the path of his new strike partner Sanogo but his scuffed shot on goal flies wide of the post.
6:47: We are edging towards the end of 90 minutes and the pace in this contest has dropped off slightly. Extra time almost guaranteed now.
6:44: Aluko does well to hold the ball up near the centre circle as his teammates sprint ahead of him but his ball to release them is overhit. The referee pulls play back however and awards the Hull man a free kick and books Giroud for his late challenge.
6:40: Good save from McGregor! Giroud lashes a half volley on goal from just inside the area but the Hull shot stopper firmly palms the ball away.
6:37: Arsenal should be ahead! Sanogo is surrounded by three Hull defenders but managers to slide a ball across to Gibbs who has emerged unmarked four yards out from goal! All he has to do is slide the ball past McGregor but instead he blasts the ball wildly over the bar. What a chance.
Nick Howson at Wembley
If the FA Cup is all about tradition, then it's fitting that entering the final quarter of an hour at Wembley that it's 'next goal wins' as Laurent Koscielny risks life and limb to put Arsenal level.
The pressure from the Gunners has not been relentless and their performance anything but impressive, but Hull have continued to retreat. A fascinating final period of this game remains, with extra time and penalties a distinct possibility."
6:33: More controversy, replays suggest Hull should have been awarded a goal kick instead of the corner Arsenal got that led to their goal.
6:30: Arsenal are level! Sagna is on the end of a corner to head the ball into the six yard area. Koscielny has peeled away from Chester and gets the slightest touch on the ball before being taken out by McGregor, but it was enough to get his side back into it!
Goal! Arsenal 2-2 Hull City (Laurent Koscielny, 70)
6:28: Arsenal are again denied a penalty! Cazorla brings the ball inside the box and Davies, who has been superb so far, loses out on this occasion and appears to catch the Spaniard as he skips past him. The referee isn't interested however.
6:26: Hull - more specifically Alex Bruce- has a problem and can't continue. Paul McShane enters the fray and replaces the boss' son.
6:23: Replays show a header from Sanogo - one that was relatively harmless - appeared to strike the arm of Livermore inside the box. Hull escape again.
6:20: Yaya Sanogo has come on for Lukas Podolski, the same substituion that prompted boos from the Gunners' faithful in the semi-final against Wigan. Arsenal are now two up front.
Nick Howson at Wembley
The format for this second half has been set in this opening quarter of an hour after the restart. Arsenal are dominating possession but are coming up against a wall of Hull City defenders while Matty Fryatt is feeding off scraps at the other end.
Arsenal's fans will be wondering when they're marquee players are going to turn up at Wembley this afternoon. Ozil, Giroud and Ramsey have been anonymous for most of the piece while Tom Huddlestone and Jake Livermore, the ex-Spurs duo, have been hassling and harrying their every move."
6:15: Wow, Arsenal are perhaps unlucky to not have a penalty there. A searching ball is launched ahead of Giroud but in his efforts to get on the end of it the Frenchman is unendedby Tom Huddlestone, whose swinging arm clearly impedes the Gunners' striker.
6:10: Ozil does well to shake off his man and pull a clever ball back across the face of the box but none of his teammates are on the scene to meet it. Arsene Wenger's side are badly missing the energy of Alex Oxlade-Chamberlain this evening.
6:04: And we are back underway at Wembley.
Nick Howson at Wembley
The opening 30 minutes at Wembley has set the platform for a classic cup final. Arsenal dominating possession at the moment but it's Hull, with those two early goals who have a first major trophy within their grasp.
How crucial might that header off the line from Kieran Gibbs be by the final whistle? Alex Bruce almost had Hull three up before Cazorla struck and would have surely put the underdogs out of sight. Now, it's a whole different story
5:51: What an exhilarating first half of the 2014 FA Cup final. Goals from James Chester and Curtis Davies put Hull 2-0 up within eight minutes but a wonderful free kick from Santi Cazorla steadied the Gunners' ship. They still trail however, and Hull, epitomised by their skipper Davies who has been colossal so far, have remained disciplined and composed. While Arsenal have looked much the likelier of the two to score, Steve Bruce's side also look capable of adding to their tally.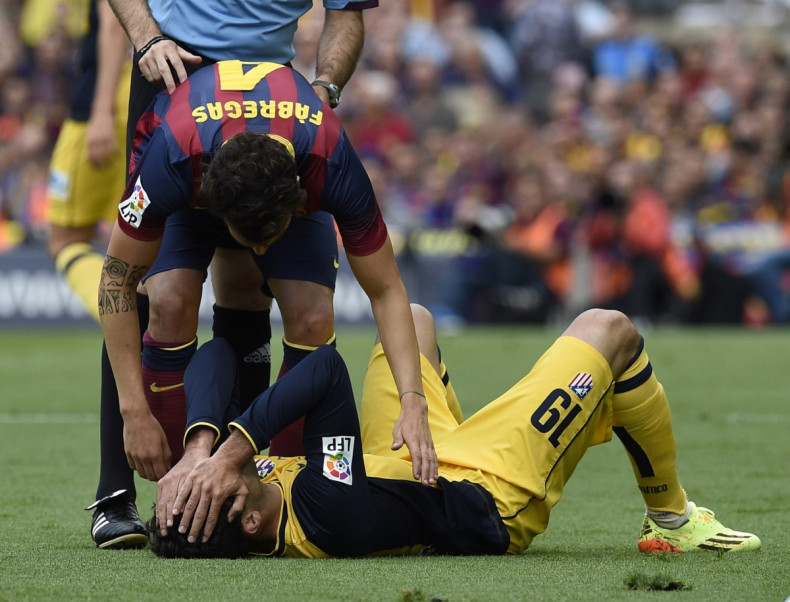 HALF TIME - Barcelona 1-0 Atletico Madrid
5:49: Three minutes of time have been added on at the Camp Nou.
HALF TIME - Arsenal 1-2 Hull City
5:46: Cazorla picks out Gibbs, cutting in from the left, with an excellent ball but Davies has keot with him and prods the ball back to his goalkeeper. More excellent defending from the Hull skipper. That could be the last real action of the half.
5:43: Big let off for Steven Quinn. The Hull man neatly drags the ball back under control on the edge of his own penalty area and then tries another only for it to be expertly read by Giroud. The Frenchman intercepts and slides the ball across goal but there is no one on the scene to put it away.
5:41: Sagna makes a mess of a corner and gives Hull the chance to fashion something on the break through Fryatt, but Koscielny is quickly on his tail and muscles his way in to retrieve possession.
5:39: Minutes ago Tom Huddlestone tried his luck with a absurdly difficult half volley from a good 25 yards out. The midfielder's connection was near=perfect but his shot rose over the bar.
5:35: Barcelona have the lead through a wonderful goal from Alexis! From the right Fabregas dinks a lovely ball into the danger zone that Messi chests down into the direction of the Chilean who, from an incredibly tight angle, rifles a half volley into the back of the net! Some may question how Courtois was beaten at his near post but the sheer velocity of Alexis' shot ensured he didn't have a chance. As it stands, Barcelona will be crowned champions.
Goal! Barcelona 1-0 Atletico Madrid (Alexis, 33)
5:32: Arsenal win another corner that Cazorla swings in. The loose ball falls to Ramsey who connects with a fine volleyed effort but Davies is in front of him to make an outstanding block!
5:31: Barca pass up the best chance of the game so far! Alves, who has been his side's biggest threat so far, bursts down the right and swings an inviting ball into the box towards Pedro, but the forward can't get the right connection and directs his header wide.
5:28: Arsenal break with Aaron Ramsey driving forward. The Welshman fires a pass into the path of Giroud who is breaking into the box ahead of him but despite his excellent first touch his marker scrambles the ball away. It falls to Podolski a good 25 yards out from goal and the German slams a vicious effort towards McGregor's goal, but it takes a deflection and goes out for a corner.
5:25: What rotten luck for Simeone's side. Turan is back on the pitch for a few minutes but after a rather innocuous collision with Cesc Fabregas goes down again. This time he is unable to carry on and he is replaced by Raul Garica. Nightmare start for Simeone.
5:24: More bad news for Atletico, Arda Turan is down and immediately starts slamming the turf in frustration.
5:22: What a chance for Ozil! Giroud sprays a ball wide for Podokski who races towards the byline before sliding an inviting ball across the box. Ozil is well placed in the centre and gets ahead of his marker Bruce but connects with fresh air from six yards out as the ball rolls past him!
5:21: Moments ago Cazorla whipped another terrific ball into the box with Mertesacker looking to meet it but Hull hack it away. Sagna races across to get hold of the loose ball but it's nicked off his foot just in time by a Hull defender.
5:20: What a blow for Atletico and their La Liga and Champions League hopes. Diego Costa, who has been persistently troubled by a hamstring injury during the final third of the season has limped off to receive treatment and hasn't returned. Adrian replaces him and the Spanish striker is understandably distraught on the sidelines.
5:18: What a strike by Cazorla! Having won the free kick having been felled by Bruce, the Spaniard curls a splendid free kick over the Hull wall and into the top corner to bring Arsenal right back into this contest. Maybe McGregor could have done better with that, the shot stopper appeared to get a hand to it but was unable to bat it away.
Goal! Arsenal 1-2 Hull City (Santi Cazorla, 16)
5:16: After that frenetic start it's worth reminding all that we are also underway at the Camp Nou but is goaless after 15 minutes.
5:14: Alex Bruce nearly makes it three! Quinn floats in another corner that the centre half meets with a looping header having easily jumped ahead of his marker. Luckily for the Gunners Kieran Gibbs is on the line to clear. Again, it's dire defending from Wenger's side.
5:12: Arsenal may have a legitimate grievance involving Hull's second. Steve Bruce's side were awarded a free kick in the build-up and rather cheekily moved the ball a good six or seven yards up field.
5:09: It's two! Quinn twists and turns on the left flank and gets a yard on Sagna before swinging an inviting ball into the box. Fryatt leaps and his header is palmed away by Fabianski , but centre half Davies is on the scene to smash the rebound into the back of the net! Dreadful defending from Arsenal and two of Hull's centre halves on the score sheet!
Goal! Arsenal 0-2 Hull City (Curtis Davies, 8)
5:06: How will Arsenal respond to this? Much of the pre-match talk has centred on whether the Gunners can cope with the pressure of ending their nine year wait for a trophy. Chester's early goal has just multiplied that by about a billion.
5:04: Hull have the lead within the opening minutes! A corner is met by Huddlestone on the edge of the penalty area and his scuffed effort is diverted into the back of the net by James Chester. What a start for the Tigers!
Goal! Arsenal 0-1 Hull City (James Chester, 3)
5:02: Elmohamady, starting in an advanced wing back role carries the ball up field but his deep cross goes out for a corner.
5:00: And at Hull City get us underway at a rocking Wembley.
4:49: Atletico may need just a point to seal their first league title in 18 years but manager Diego Simeone has insists his side have no intention of playing for a draw.
We have always kept the same identity. I do not think this will change for the last game," he says.
Personality will be important. To have arrived at this point, we have put in a lot of work and effort. It has not been easy, but we are here on merit." [via BBC Sport]
4:39: Some final words from the two managers as kick off draws ever closer.
Arsene Wenger: "We are favourites but it's a football game and it's down to us to produce a performance. Favourites means only do you turn up and produce a strong performance to win the game." [via ITV]
Steve Bruce: "We've done very well with this shape. We played it a lot last year in the Championship and this year in the Premier League. With injuries and knocks we think it's the best way of going. It's a huge job for us but that's what the FA Cup final is all about." [via ITV]
4:26: The biggest news ahead of kick off at Wembley centres on the inclusion of Lukasz Fabianski at the expense of Wojciech Szczesny. The situation draws comparions with the one that faced Wenger in 2003 when he dropped Richard Wright - who had featured in every prior round - for David Seaman in the FA Cup final against Southampton. Here's what Wenger had to say on the matter earlier this week.
For me my job is to make decisions that are sometimes tough and for the players it is to deal with the decisions that are sometimes tough," Wenger said. "It was a harsh decision on him yes but the payers have to suffer at some stage in their career.
It's hard but I believe that it is much harder to lose the game so you do what it takes to win the game."
4:18: We are just over half an hour away from kick off in Spain too, here is our piece examining the magnitude of what will soon unfold at the Camp Nou.
4:15: Turning our attention to La Liga, Gerardo Martino has dropped Xavi to the bench following last week's 0-0 draw with Elche while Diego Costa returns to the starting line up after recovering from the injury that ruled him out of the 1-1 draw with Malaga six days ago.
Barcelona: Pinto, Alves, Pique, Mascherano, Adriano, Sergio, Cesc, Iniesta, Alexis, Pedro, Messi.
Subs: Xavi, Neymar, Bartra, Song, Alba, Tello, Olazabal
Atletico: Courtois, Juanfran, Miranda, Godin, Luis, Gabi, Tiago, Koke, Turan, Villa, Costa
Subs: Aranzubia, Suarez, Adrian, Raul Garcia, Alderweireld, Diego, Sosa
4:08: Undoubtedly the pressure is all on Arsenal this evening, will the nerves get them? Here is our 'Five Things to Expect' ahead of kick off.
Nick Howson at Wembley:
Arsene Wenger admitted this week he had some tough selection decisions to make ahead of today's game and the French boss has sprung a surprise in retaining Lukasz Fabianski – who has played in every round of the competition – in goal ahead of No.1 Wojciech Szczesny. Fabianski is out of contract in the summer and could be playing his final game for the Gunners this afternoon.
It's a bit more simple where Hull are concerned, with Steve Bruce opting for a central three at the back with player of the year Curtis Davies, James Chester and son Alex Bruce entrusted with patrolling Olivier Giroud. Up front, after scoring four goals in City's route to Wembley, Matty Fryatt is preferred up front ahead of Yannick Sagbo. Nikica Jelavic and Shane Long are of course ineligible.
4:02: Steve Bruce admits he has had one or two injury worries in the build up to this evening's game but is confident his side are ready for the challenge at hand.
The players knew the team yesterday. We had a week to prepare. The biggest problem is I've had three or four people suffering with injuries and you have to be 100% fit to face Arsenal." [via ITV]
4:00: Here at IB Times Towers we looked ahead to today's final. Watch the video below.
3:58: We also have team news from Spain where Atletico Madrid are seeking to lift their first league title since 1996. It's largely what you expect from Diego Simeone's side but there is starting place for David Villa against his former club alongside Diego Costa.
Atletico: Courtois; Juanfran, Godín, Miranda, Filipe; Tiago, Gabi, Koke, Arda; Villa, Diego Costa
3:55: IB Times reporter Nick Howson is at Wembley this afternoon and he will be bringing us live updates throughout the evening.
Amid the constant tinkering, continually marginalisation of supporters and nullifying of the oldest cup competition in world football, the sport's administrators will go some way to destroying the glamour and atmosphere which accompanies an FA Cup final.
Arsenal and Hull meet at Wembley both looking to end inauspicious runs without a major trophy. The Gunners, for all their monopolisation of the Champions League places during Arsene Wenger's reign as manager, are without a major trophy since 2005.
Hull meanwhile, and their manager Steve Bruce who won the competition twice with Manchester United as a player, are looking to win the first major trophy of their 110-year history. As if it needs saying, there is so much at stake at the home of football this afternoon.
TEAM NEWS: It's an attacking line up from Arsene Wenger Mikel Arteta, Aaron Ramsey and Santi Cazorla form a midfield three with Jack Wilshere left on the bench. Tomas Rosicky drops to the bench and there is no Alex Oxlade Chamberlain the squad.
Steve Bruce meanwhile has opted for a back five with James Chester returning to defence alongside Alex Bruce and Curtis Davies. Matty Fryatt, who scored that early second half goal that put Hull in control against Sheffield United in the semi final, is handed a start while Sagbo drops to the bench.
LINE UPS
Arsenal: Fabianski, Sagna, Mertesacker, Koscielny, Gibbs, Arteta, Ramsey, Cazorla, Ozil, Podolski, Giroud
Subs: Szczesny, Vermaelen, Rosicky, Wilshere, Monreal, Flamini, Sanogo
Hull: McGregor; Davies, Bruce, Chester, Rosenior, Elmohamady, Livermore, Huddlestone, Meyler, Quinn, Fryatt
BREAKING: Lukasz Fabianski starts in goal for Arsenal ahead of Wojciech Szczesny
3:48: Stick with us all for all your team news that should be with us imminently. We also have plenty of preview, interviews and analysis coming your way as we count down to kick off on a decisive day in England and Spain.
3:46: And incase you've been residing under a rock for the past couple of weeks, this evening also brings La Liga's title decider between Barcelona and Atletico Madrid at the Camp Nou where a point will be enough for Diego Simeone's side to shatter the duopoly that has dominated Spanish football for the past 10 seasons
3:45: Good afternoon and welcome to IB Times UK's LIVE coverage of the final day of the 2013/14 campaign in England as Arsenal attempt to end their nine-year wait for silverware in the FA Cup final against Hull City.