4:58: That's it! Arsenal claim the first silverware of the season after cruising to a 3-0 win over Premier League champions Manchester City. Missing five members of the first team, Manuel Pellegrini's side looked sluggish and disinterested in times while the Gunners looked bright. City will no doubt look better when they have a fully fit squad to choose from, but Pellegrini has been left with a few things to ponder over.
FULL TIME - Arsenal 3-0 Manchester City
4:51: Three minutes of time added on. Don't expect much to happen.
4:50: Szczesny is in the wars again. He races out of his goal to get to a lofted through ball with Sinclair racing onto it and the goalkeeper bravely clears with a diving header, only to crash into Sinclair afterwards. The Gunners shot stopper is left in a heap but is up and about again a few minutes later.
4:46: Sinclair swings an inviting corner in from the right that Szczesny comes for but doesn't get. Boyata leaps and nods the ball on but it bounces inches wide of the far right post and the chance is gone.
4:43: Another round of subs, Scott Sinclair is one for Jesus Navas while Joel Campbell replaces goalscorer Aaron Ramsey.
4:40: Olivier Giroud's third virtually ended this contest on the hour.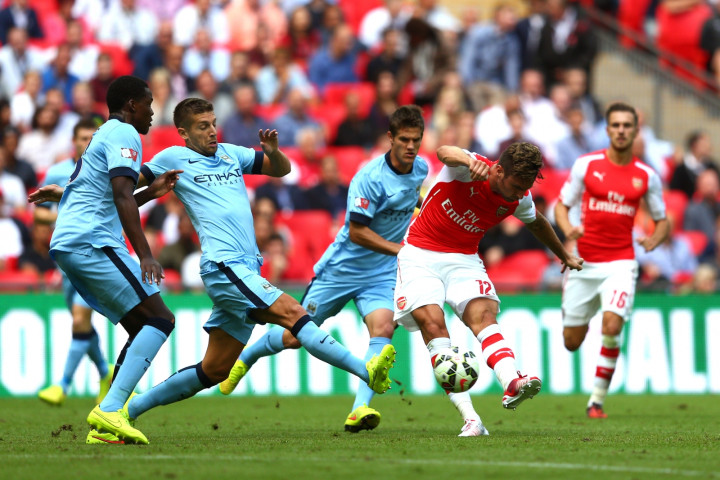 4:36: A poor touch sees Chambers make another slight error but he atones for it well. That's been a bit a trend this afternoon, the 19-year-old hasn't looked entirely comfortable at centre half but he has coped well for the most part and his quick reactions and strength have allowed him to make up for mistakes brought on by his inexperience.
4:34: That third goal has killed the game off, someewhat. There has been a noticable drop off in pace as Arsenal saunter towards a win. Micah Richards has come on for Kolarov, just in case this one goes to penalties.
4:30: Tomas Rosicky now comes on to replace Santi Cazorla. Chambers does well to read aNavascross but his clearance only falls to Fernando who launches the ball back into the six yard area but Szczesny again bravely comes out to clear.
4:26: Jack Wilshere's afternoon is over as Mathieu Flamini comes onto replace him. Moments before Szczesny was out bravely to claim a corner but suffered a nasty collision with Zuculini. The Gunners goalkeeper looks a bit shaken but is okay to go on.
4:24: Jovetic opts for the spectacular as he attempts an overhead kick but he doesn't get the right connection and his effort balloons over the bar.
4:20: What a strike from Giroud! After coming off the bench at half time the Frenchman has smashed a wonderful dipping effort into the back of the net from 25 yards out.
Goal! Arsenal 3-0 Manchester City (Olivier Giroud, 60)
4:18: Silva's introduction has been integral to City's improvement this half andf Pellegrini is making more changes as James Milner and Bruno Zuculini come on for Toure and Dzeko.
4:14: Szczesny denies Jovetic! City again work the ball down the left flank and find Jovetic infield on the edge of the box, He takes a touch before slamming a low effort on goal but the Gunners 'keeper follows it all the way and saves.
4:12: City hit the woodwork! Toure looks up and finds Navas' darting run down the right. He takes on Gibbs for pace and wins before swinging a cross over to the far post that Jovetic meets with a header, but he is denied by the woodwork after Szczesny left it.
4:10: Arsenal appeal for a penalty as Carozla hits a first time effort inside the box but Michael Oliver is unmoved. Replays suggest the shot cannoned off the City midfielder's chest, anyway.
4:09: Fernando rests his hand on the shoulder of Wilshere as the Gunners midfielder brings the ball forward who hits the deck upon contact. Fernando objects, but is shown his first yellow card in English football.
4:08: It's been a better start from City in this half. Over on the left Kolarov marches menacingly forward with three options over to his right but his pass across the pitch is fairly awful and Arsenal intercept.
4:04: Jovetic is down after a nasty head collision with Calum Chambers is fine. the forward takes a few minutes to collect his bearings and play restarts
4:02: Changes for both sides here. Alexis Sanchez, Laurent Koscielny and Yaya Sanogo are off for Alex Oxlade-Chamberlain, Nacho Monreal and Olivier Giroud. David Silva has also come on for City, replacing Samir Nasri.
3:55: City have looked very sluggish in this first half and Aaron are comfortably leading. Are the Premier League champions taking the 'friendly' tag of this contest a little too far?
HALF TIME
Arsenal 2-0 Manchester City
(Santi Cazorla, 21, Aaron Ramsey, 41)
3:47: Cabarello to the rescue! Arsenal easily cut through City's high line as Sanogo slips a simple ball through to Sanchez who is left one on one with the City goalkeeper. Cabarello reads it and times his run off his line brilliantly, however, and gets to the ball first with a sliding challenge.
3:45: City's midfield was nowhere to be seen as Arsenal marched through moments earlier and they are absent again as the Gunners search for a third. It's four on three in the Gunners' favour but Sanchez's pass isn't a great one and City retrieve the ball.
3:44: Just as City were getting back into this, Arsenal have doubled their lead! It comes on the counter as Alexis Sanchez finds Sanogo in the box who does well and hold the ball up for Ramsey, who has run the length of the pitch to get involved. He collects it with a toe back, drags the ball onto his right foot and drives a composed effort into the bottom left hand corner.
Goal! Arsenal 2-0 Manchester City (Aaron Ramsey, 41)
3:42: This is better from City. Edin Dzeko suddently cuts in from the left, powering past Chambers but his effort on goal is just about snuffed out.
3:41: Michael Oliver gives the vanishing spray a dignified debut in English football as City win a free kick.
3:39: Kolarov makes a rampaging run down the left and is picked out at the byline, sending the ball across the face of the goal. It's Nasri who springs free but the ball deflects out his path and the chance is gone.
3:35: City are struggling to piece anything together at the minute. Dzeko is cutting a lonesome figure at the forefront of attack as Toure and Fernando have been unable to dictate play having been overrun by Arsenal.
3:31: Sanchez inspires a rapid Arsenal counter but his threaded pass for Ramsey is intercepted the ball falls to Cazorla but his shot is deflected for a corner that he takes. His delivery falls to Sanogo whose deflected header to saved.
3:28: Nasri and Clichy work the ball neatly down the right flank, just about keeping the ball in play. The full back swings a cross in from deep but Szczesny partakes in his first piece of work of the afternoon and easily plucks the ball out of the air.
3:25: Sanchez is nudged over by Kolarov to give Arsenal the chance to pump the ball up field. Cazorla slides a neat ball through to Sanogo who has again shown excellent movement but he never looks entirely comfortable on the ball and his effort from a tight angle is steered past the far post.
3:22: Arsenal have the lead! On the edge of the D Sanogo's first touch is heavy, prompting Boyata to slide in and intercept. The ball falls kindly to Cazorla on the edge of the area who drags the ball onto his left foot before steering a low effort into the bottom right hand corner. It's a deserved lead.
Goal! Arsenal 1-0 Manchester City (Santi Cazorla, 21)
3:21: Clichy gives the ball away and allows Arsenal to nealty work their way in on goal with the ball eventually falling to Gibbs., From a tight angle is shot on goal is blocked and Sanogo is unable to take the ball under control and the chance is gone.
3:18: Clichy is left in a heap after a crunching challenge with the man he used to battle for a first team spot in Kieran Gibbs. The City full back has come off worse after appearing to take a knee to the chest, but he is okay after taking a few minutes to regroup.
3:16: City come close! They appeal for a hand ball in the box as Nasri slams a vicious shot towards goal inside the area that cannons of Debuchy. It may have struck the defender's arm, but there was so much pace on the shot there was little he could have done about it. City continue as Kolarov picks up the ball and dances his way into the box up the byline past Chambers. His pass finds Fernando on the edge of the box but Arsenal have regrouped and the chance goes.
3:15: Arsenal waste the corner allowing City to break through Kolarov but his cross field ball is intercepted well by Debuchy.
3:14: Sanogo makes a diagonal run down the right and is found with an excellent pass. Nastasic follows him and his forced to concede the corner.
3:11: Sanchez this time reaches the byline and slides a ball across the face of goal from the right with Sanogo lurking but Boyata hoofs clear.
3:10: It's been a poweful start from Arsenal; City have been unable to hold onto the ball on the rare occasions the Gunners have surrendered possession.
3:09: Debuchy carries the ball down the right and looks inside the box for Sanchez. The Chilean neatly returns the ball to the full back who swings an inviting ball into the box but Clichy does enough to put off Sanogo who misses the ball from six yards out
3:07: Dzeko wins a corner that Nasri jogs over take. Boos cascade down from around Wembley for the Frenchman, whose decision to leave the Emirates a few years back still has Gunners supporters a bit miffed. The boos have the desired effect; Nasri's delivery is rubbish.
3:05: Ramsey wiggles his way down the inside left channel past Clichy and reaches the byline with Sanogo and Sanchez waiting in the middle, but the Welshman is unable to dig a ball out.
3:02: Wilshere receives the ball and neatly flicks the ball over the head of Fernando as is subsequently clattered into for his trouble.
3:00: And we are off and underway at Wembley!
2:54: Kick off is just over five minutes away, here's a quick reminder of those starting XIs.
Arsenal: Szczesny, Debuchy, Koscielny, Chambers, Gibbs, Arteta, Wilshere, Ramsey, Alexis, Cazorla, Sanogo
City: Caballero, Clichy, Boyata, Nastasic, Kolarov, Navas, Fernando, Toure (C), Nasri, Jovetic, Dzeko
2:51: Quick reminder; today also marks the first use of vanishing spray on these shores. After producing nods of approval from purists everywhere during the World Cup the FA have followed Uefa in ensuring it will come into play this season.
2:48: Pellegrini appears to have just accidentally confirmed one of the worst kept secrets of the summer transfer window in his interview with BT Sport. The Chilean named Eliaquim Mangala as one of the club's summer signings despite no official confirmation of the deal with Porto as of yet.
2:41: He might be a season late but Willy Caballero has followed his manager from Malaga to Manchester. He has been given his debut this afternoon and of his selection, Pellegrini said:
Of course we had a very successful season last year, that is never easy. We won two titles and we are very happy but now we start again and try to be the best team.
We have a very strong squad. The players who have arrived this year will give us a better defence but we will continue to be an offensive team. The goalkeeper is not a special position. I try to have two players for each position and Willy Caballero is the same as anyone else." [via BT Sport]
2:25: For Arsenal's last visit to Wembley for the season's curtain raiser you have to go back to 1999. Goals from Kanu and Ray Parlour helped the Gunners secure a win over Manchester United having hammered Sir Alex Ferguson's side 3-0 in the same game the year before.
In 2005 Arsenal travelled to the Millenium Stadium in Cardiff where they lost to Chelsea. It's the first time Manchester City and Arsenal have met in this fixture and the first time in a while the fixture has been freshened up a bit, as the guys at Squawka point out.
2:08: Manchester City have also named 21-year-old midfielder Bruno Zuculini on the bench. The youngstwer is another summer arrival having joined the club from Buenos Aires-based Racing Club. With a clutch of first team players unavaliable having only recently returned to training following their post World Cup breaks away, the City bench also features Hart, Richards, Rekik, Milner, Sinclair and Silva.
LINE UPS
Arsenal: Szczesny, Debuchy, Koscielny, Chambers, Gibbs, Arteta, Wilshere, Ramsey, Alexis, Cazorla, Sanogo
City: Caballero, Clichy, Boyata, Nastasic, Kolarov, Navas, Fernando, Toure (C), Nasri, Jovetic, Dzeko
TEAM NEWS
2:01: Willy Caballero and midfielder Fernando will both make their competitve debuts for Man City this afternoon. Calum Chambers - who slots in at centre half - Mathieu Debuchy and Alexis Sanchez also feature in Arsene Wenger's starting XI which is led by Yaya Sanogo.
1:58: Arsene Wenger has once again raided Spain for one of its leagues finest talents in Alexis Sanchez. Joining him are Calum Chambers and Maithieu Debuchy and Colombian goalkeeper David Ospina. The first three are all in line to make their competitive debuts this afternoon.
1:55: What's new then? Bacary Sagna has followed the route previously taken by Kolo Toure, Emmanuel Adebayor, Samir Nasri and Gael Clichy and left the Gunners for Manchester City.
The Frenchman will not line up against his former club today however, with loanee Frank Lampard also missing out, despite travelling with his side to Wembley. Brazilian-born midfielder Fernando and former Malaga shot stopper Willy Caballero are in line for their competitive debuts but Sergio Aguero and Vincent Kompany are unavailable.
1:45: We are back. Four months on from ending their nine year wait for silverware Arsenal return to Wembley for the season's curtain raiser with Premier League champions Manchester City. Manuel Pellegrini's celebrated their own triumph on the hallowed turf last season in their Capital One Cup success before they reinstated their status as the best club in England and will have their first opportunity to demonstrate they are still the unyielding, dominant force in the Premier League this afternoon. In so many ways, Arsenal face one of their most pivotal seasons in recent memory. Last season's cup success was merely the beginning, the start of something which supporters hope will summon a return of the glory days and not another mere false dawn. Today is unlikely to prove or disprove anything in the long-term, but it is good to be back anyway.
Pellegrini appears to have just accidentally confirmed one of the worst kept secrets of the summer transfer window in his interview with BT Sport. The Chilean named Eliaquim Mangala as one of the club's summer signings despite no official confirmation of the deal with Porto as of yet.