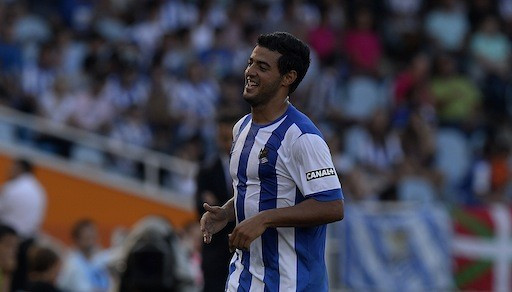 Arsenal are set to activate Carlos Vela's €4m buy-out clause this summer in a bid to bring him back to the Emirates, according to Spanish paper Marca.
The Gunners are in the market to enhance their attacking options up front and Vela's arrival will give them another option, with the Mexican ending a stellar season with 16 goals and 12 assists for Real Sociedad.
The 25-year-old left Arsenal in 2011 and has taken to the La Liga, where he has been scoring on a consistent basis. His statistics are better than any player in the Arsenal ranks and will be a great addition to the squad given the fees being warranted for him.
A move to Arsenal will provide him with Champions League football, with Sociedad finishing the season in seventh spot and out of contention for a place in Europe.
The Gunners are trying their best to convince the player to come back to the Emirates but Sociedad are doing everything in their power to keep him and sell him for a much higher fee if the opportunity arises.
The player himself is open to a move back to the Emirates, stating that he has matured in the past couple of years and will be a better fit in the Arsenal line-up, which boasts players by the likes of Mesut Ozil and Aaron Ramsey.
"The club [Sociedad] is working so that I stay here. I am working on it in my own way too. But there is still not anything concrete, it is not anything that is ready to be closed. There is still time for it to be done," Vela said.
"As of today I have not decided anything, nor have I said anything. These days I will rest to mentally rest and analyse what is the best thing to do.
"I am very happy here, I have enjoyed every moment I have been in San Sebastian, because I have some incredible team-mates who have made me happy every moment. Being happy here for sure plays a part in analysing what to do," he added.