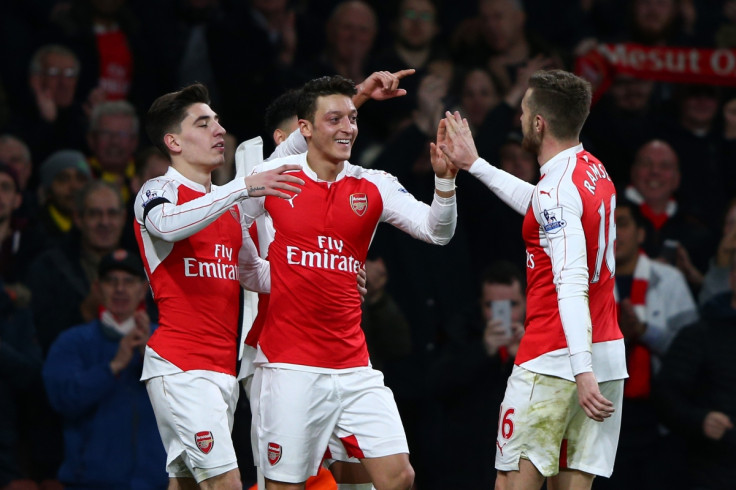 Arsenal manager Arsene Wenger has likened Mesut Ozil to Gunners legend Dennis Bergkamp in the way he carries himself in the dressing room and has a calming influence on the players. The midfielder has had a brilliant season thus far for the north London club, contributing 16 assists, only four short of Thierry Henry's record of 20 for a season.
The manager will be looking at Ozil to provide the creative verve when the Gunners take on Chelsea at the Emirates on Sunday, 24 January where a win will take them top of the table. The midfielder missed their game against Stoke City last weekend with a slight toe injury but will be back in the first team alongside Alexis Sanchez, who is back in full training after missing almost two months with a hamstring problem.
"Yes, he's a bit like [Bergkamp]," Wenger said, as quoted by Goal. "Not that guy who stands up and speaks too much but every time he says something, it is straight to the point. He's has a big influence. He's not an extrovert, as you know. But you don't win by coincidence and he has won in his career. He's demanding from his partners."
The Frenchman also talked up the influence of Per Mertesacker, who missed the game against Chelsea at Stamford Bridge with illness. Gabriel came in place of the German and was sent off following a scuffle with Diego Costa, leading to the Gunners losing 2-0 in the reverse fixture.
"Per is [also] very important in that. He's a very important leader in the dressing room — and a respected one as well. He maintains focus and wants to do well. He's one of the guys who can help us," he added. "Experience helps but what will help more than anything is the quality of our performances and I think Sunday [against Chelsea] is a big one for us on that front."