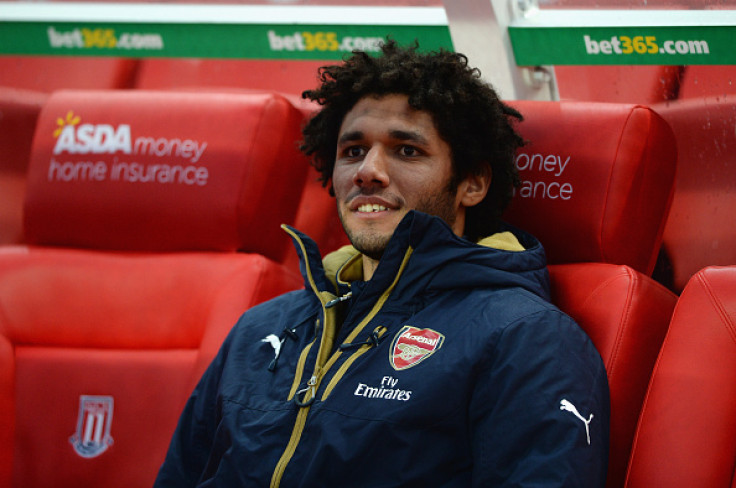 Arsenal's latest midfield star Mohamed Elneny is set to return to the Gunners squad for the visit of Premier League leaders Leicester City on 14 February after he missed the last two games against Southampton and Bournemouth to be with his wife, who was expecting their second child. The midfielder confirmed the birth of his child a couple of hours before the Emirates Stadium outfit beat the Cherries 2-0 at the Vitality stadium.
"New baby thanks allah," the former FC Basel midfielder wrote on his official Twitter account.
The Egyptian midfielder arrived in north London during the January transfer window and has made just one appearance thus far when he played the entire duration of the 2-1 win over Burnley in the fourth round of the FA Cup. Elneny was brought in as cover for the injured Francis Coquelin, but with the Frenchman's return he is likely to be used off the bench. However, with Arsenal taking part in three competitions, and Santi Cazorla, Jack Wilshere and Tomas Rosicky injured, he could get his fair share of games before the end of the season.
Arsene Wenger was impressed with the Egypt international's debut performance for the 12-times FA Cup champions and believes he has the technical knowhow to succeed in the Premier League. The Frenchman understands that he will take time to adapt to the speed and intensity of the English top-flight, but is confident with regards to his ability.
"I felt he started a bit cautious, played a bit secure. He became more adventurous, he had some good shots on goal," Wenger told Arsenal's official website.
"His mobility, his work rate was exceptional and for the rest, he needs to adjust to the power of the game in the Premier League. This was a good welcome today and certainly he has learnt a lot today.
"It will take him some time to adjust to the power side of our game here, but the intelligence, the mobility and the technical level are good," he added.