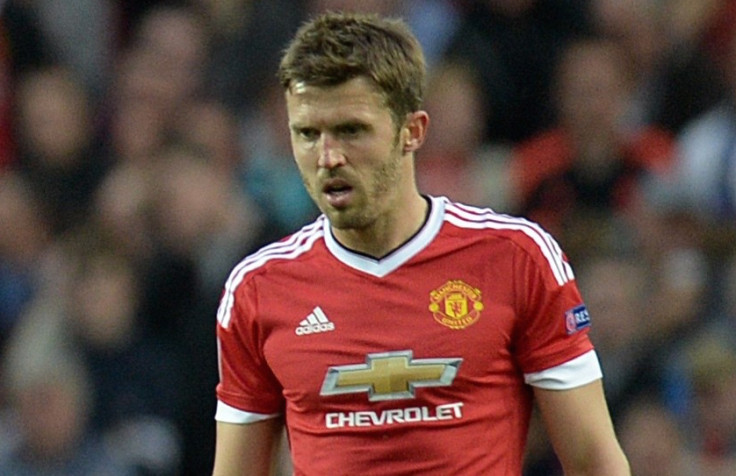 Manchester United boss Louis van Gaal has revealed Michael Carrick is fit for the crucial Premier League match against Arsenal on Sunday 4 October. LVG added that there are no new injuries in his squad, although some changes may be made to the side that played Wolfsburg in the Champions League due to tiredness.
The Premier League leaders visit the Emirates Stadium in sensational form, having one their last three league games as well as matches in the Champions League and Capital One Cup. Despite Luke Shaw and Marcos Rojo remaining out in defence, he has given fans a boost with the news that Carrick can play.
"Carrick can play so I have a choice," van Gaal told MUTV. "I am happy to say there are no injuries from [the Wolfsburg game]."
Carrick missed the Champions League victory over the Bundesliga outfit, with Bastian Schweinsteiger and Morgan Schneiderlin duetting in midfield. Having been a key figure in the wins over Liverpool, Southampton and Sunderland, he may return to the line-up in North London.
The manager, nevertheless, says that he may be forced to make some changes despite giving his players a day off following their Champions League win.
"The solution is recovery, recovery, recovery," Van Gaal said. "That is why it's so difficult to prepare for the match against Arsenal. As a manager, you want to prepare on the pitch and you cannot do it because you need freshness of the players, so then there's also another solution – to change your squad."
"So we have to see how the evaluation is from my fatigue specialist. I cannot tell that because the press conference is one day after the match. Tomorrow, they have a day off because they've already had two weeks with no day off. We have to wait and see for Saturday and then I can make decisions."