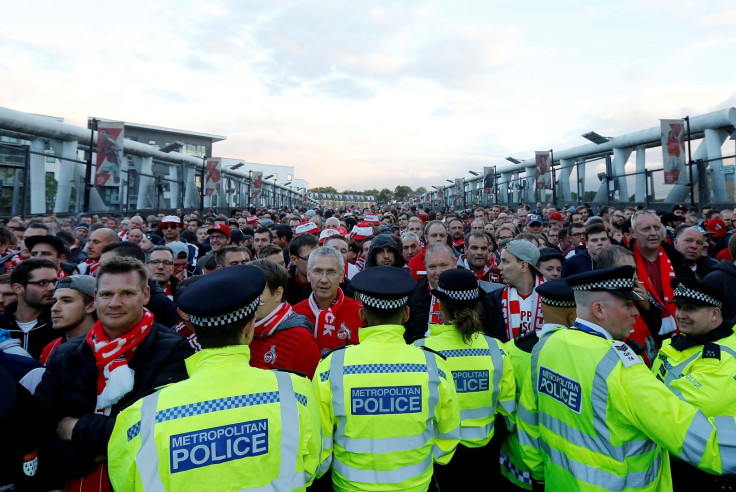 The Europa League between Arsenal and FC Cologne was delayed for an hour after thousands of away fans without tickets turned up outside the gates of the Emirates Stadium.
Earlier, fans from FC Cologne brought London to a standstill when 20,000 of them turned up to Oxford Street in the centre of the capital.
The German fans later descending on the north London stadium meant supporters with tickets were unable to get into the stadium safely.
The away side had only been allocated 2,900 tickets but almost ten times that amount turned up, leading the police to closing off the majority of the bridges leading to the stadium at 6pm on Thursday (14 September).
Before the match which Arsenal won 3-1, a spokesman for the London club said: "There are huge numbers of fans on the concourse which is making it difficult for home supporters to get into the stadium. Our first priority is crowd safety and that is the reason for the delay."
The game was moved to 9.05pm from the original 8.05pm kick-off for safety reasons, with police and stewards using that extra hour to disperse the crowds. Gunners' fans took to Twitter to complain that the gates had not been opened at 7pm.
"Every queue has Cologne fans in it; loads will be in Arsenal end," wrote one fan.
Videos on social media showed how German fans threw bottles and let off flares while making their way to the ground.
In the ground itself, the BBC reported there were skirmishes between fans and stewards, with many entering the ground into the home end and climbing barriers to get into the away section.
It was the first Europa League for Arsenal for nearly two decades and it was Cologne's first international club fixture for 25 years.