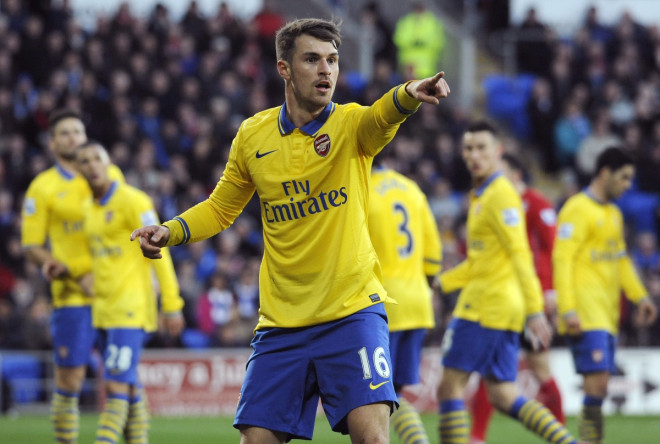 Arsene Wenger has likened Aaron Ramsey to Chelsea legend Frank Lampard who is reputed for his goal scoring as a deep lying midfielder.
Ramsey has been in sparkling form for the Gunners this season, scoring thirteen times in all competitions before being sidelined with a thigh injury which kept him out for more than three months.
The Welshman has recently been rewarded with a new contract after his brilliant start to the season. He would have been a contender for the Player of the Season if he had continued his upsurge in the centre of Arsenal's midfield.
The Gunners were top of the league for long stretches in the season and had taken a six point lead over Liverpool at one point. However, a barrage of injuries to key players has scuppered Arsenal's season, and they are currently seven points behind the Reds and scurrying to secure a top four place.
Arsenal face Everton on Saturday where a loss will allow the Toffees to come within a point of the Gunners with a game in hand. Ramsey is back in the squad after a long layoff and is likely to make an impact from the bench.
"The number of goals he has scored is tremendous for a midfielder. He turns up in the box and he is a bit 'Lampardish.' He gets in the box at the right moment. He is cooler in his finishing now. Before, he always rushed his final ball and he was a bit nervous," Wenger told www.arsenal.com.
"You are always worried, but for him no, because he's young and he did it in a consistent way. In training you see him in situations where he can score, and he repeats what he did before.
"I expect him to improve on the defensive side of his game, on the technical side of his game - there is room for improvement. He has good vision, a good long ball, I think there is a lot more to come from him," he concluded.