Arsene Wenger: Aaron Ramsey Should Stop Obsessing About Goals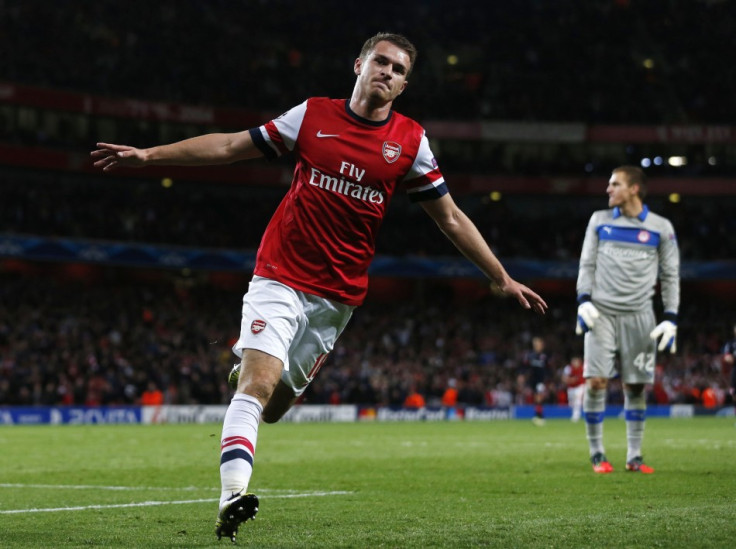 Arsenal manager Arsene Wenger feels midfielder Aaron Ramsey needs to stop 'obsessing' about scoring goals and focus on the basics to get back to his best.
The Welshman had an impressive 2013/14 campaign and was voted Arsenal's Player of the Season. He scored 16 goals through the season, including the winner against Hull City in the FA Cup final. Ramsey has not begun this season like the last one and has only three goals to his name.
The Frenchman has now called on the former Cardiff City player to focus on the primary duties of a midfielder and believes that the goals will come once he improves the all round quality of his game.
"A midfielder is a player who defends well, attacks well and keeps his priorities right," Wenger said, as quoted on Arsenal's official site.
"He's not a goalscorer, so he has not to be obsessed by that. I just want him to do his job well. The goals are the consequence of the quality of his game. I don't believe that he has to be obsessed by that."
The Gunners manager appreciates that Ramsey was one of the most efficient players of last season, when he at times carried Arsenal single-handedly across the line. And Wenger is confident that the former Wales captain will get back to his best with a consistent run of games, a luxury he has not had this season, due to injuries and illness.
"He's running after consistency. He's one of the players who has been very efficient last season."
"Since the start of the season, he has not had a consistent run. He's now coming back - he has been sick as well," Wenger explained.
© Copyright IBTimes 2023. All rights reserved.