Arsene Wenger addresses Alexis Sanchez's future at Arsenal, pursuit of Thomas Lemar
KEY POINTS
Frenchman reiterates the former Barcelona forward will stay at the Emirates Stadium.
Sanchez will delay his return to training due to illness.
Manager was coy over the pursuit of Monaco star.
Arsene Wenger has reiterated that Alexis Sanchez is set to stay at Arsenal after confirming the former Barcelona forward will delay his return to training due to illness. Meanwhile, the boss admitted that he remains "active" in the transfer window, but was coy over any pursuit of Monaco star Thomas Lemar.
The Guardian reported last week that Paris Saint-Germain are confident of signing Sanchez in a deal worth around €45m (£40.3m) – as the player's contract at the Emirates Stadium will expire next summer.
Manchester City have also been heavily linked with his services in recent weeks and Sanchez added more fuel to the saga on Friday (28 April) after claiming to be sick.
The player's post came only a day after Wenger said the Chile international was expected back on pre-season training on Sunday, following his extended break due to his participation in the Confederations Cup.
Wenger has now insisted that the player does have the flu and won't leave Arsenal before the end of the current transfer window.
"He has flu, yes. I had him on text yesterday," Wenger said in a press conference following Arsenal's 5-2 victory over Benfica in the Emirates Cup.
"He will come back as soon as possible and we were in touch with him and his doctor. He has no basic problem apart from the fact that he should come back tomorrow, but he comes back on Tuesday,"
"He's flying back as soon as he's in a position to fly back. He has flu and that's a question of normally four or five days."
Asked whether there has been any turnaround on his future at Arsenal, Wenger replied: "There's no development, it's always the same. He is staying."
But when pressed whether Alexis has told him if he wants to leave this summer, he said: "I cannot reveal to you what he says to me always, no. I don't want to talk. I cannot reveal what is a secret conversation."
Meanwhile, Arsenal are said to be trying to convince Monaco to cash in on Lemar after already having two offers rejected.
It has been reported the Gunners have launched a third bid to test the resolve of the Ligue 1 side, but asked about the club's attempts to sign the Frenchman, Wenger said: "We don't speak about how the negotiations go. We come out once the player is done or not done. I can't tell you that. But at the moment there is nothing special to say in this case."
However, the Arsenal boss did admit that he is still keen to add more players to the squad following the arrivals of Sead Kolasinac and Alexandre Lacazette.
"We are still active in the transfer market in general," Wenger confirmed.
"You have two ways to strengthen your team. First by improving the players you have and the way you play and secondly by bringing in players from outside. At the moment we focus on the first part and we have a big squad you know, today we had not involved Gibbs, Debuchy, Wilshere. We have a massive squad. We have to first focus on the players we have."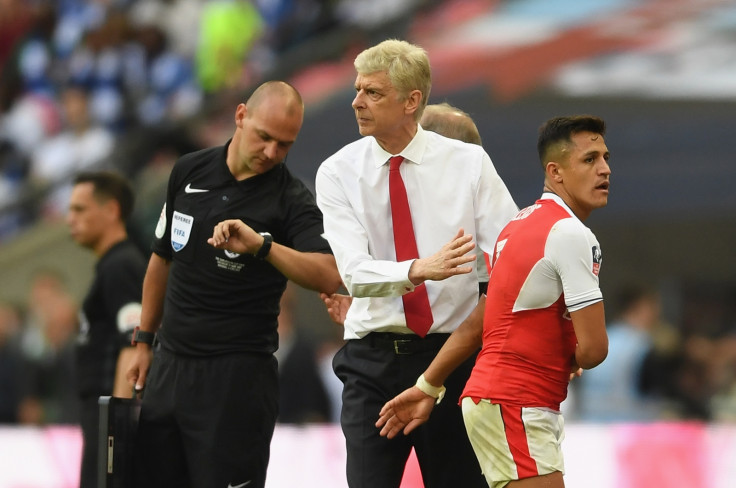 © Copyright IBTimes 2023. All rights reserved.