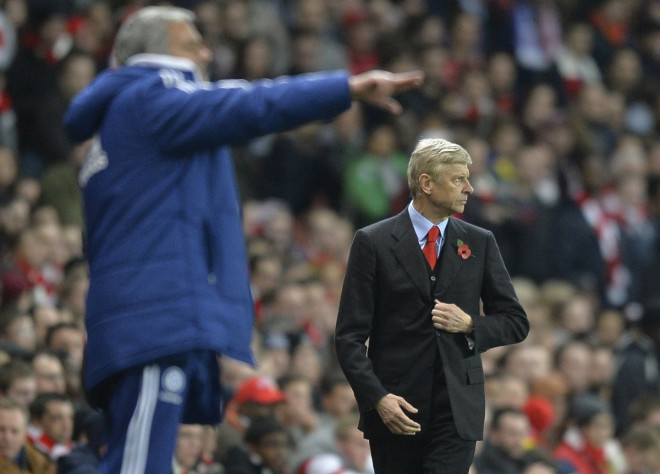 Arsene Wenger has played down Arsenal's chances of winning the Premier League this season, claiming his side are third favourites in the title race.
Chelsea registered a 4-0 win over Tottenham Hotspur at Stamford Bridge in the last league fixture. The victory over the north London side has seen the Blues extend their lead at the top of the table. They have 66 points from 29 games.
Arsenal are third in the table with 59 points and are level on points with second place Liverpool and the two still have a game in hand. Meanwhile, Manchester City are third with 57 points from 26 games and victory in the next three games will see them climb to the top of the table.
Wenger claims the current situation has made Chelsea and City as the favourites to win this season's league.
"You can say that at the moment Man City and Chelsea are in the better position than Liverpool and Arsenal," Wenger told talkSPORT.
"That puts a bit more pressure even on us at Arsenal to win every big game because when you're three points behind if you lose a big game then it's six. So it's very important for us to win the big games but for everybody it will be the same."
"At the moment we've had disappointing results. We lost at Liverpool, we drew at Southampton and we lost at Stoke. We're in a part of the season where you cannot afford that and we have to respond."
"We are in a period where we are tested on our mental strength and our resolute attitude and that's what is at stake at the moment," the Frenchman concluded.
Meanwhile, the Gunners manager had earlier admitted that the FA Cup will not be more important as the Premier League. Arsenal have sealed a place in the last four of the cup competition after their 4-1 victory over Everton in the quarter final tie at the Emirates.
City are the favourites to win the FA Cup this season along with the Gunners. The Citizens will take on the winners Wigan Athletic on Sunday. Should Manuel Pellegrini's side lose to the Championship side, it will make Arsenal the firm favourites to win the competition and end their nine-year trophy drought.