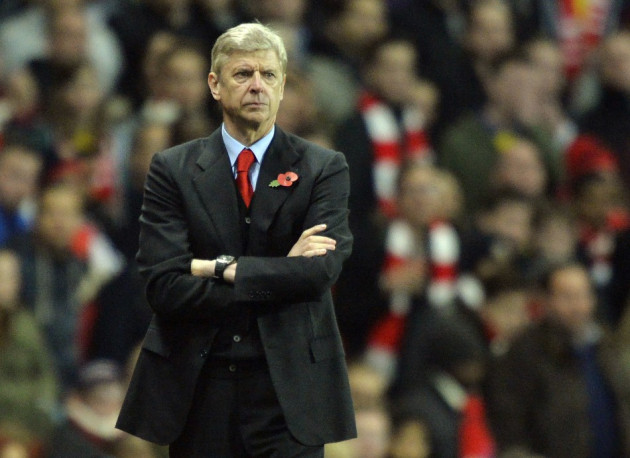 Arsenal manager Arsene Wenger has defended the depth of his squad following defeat to Chelsea in the League Cup, hinting that he won't make many notable additions in January if his squad are at full fitness.
Cesar Azpilicueta and Juan Mata's goals either side of half time sent the Blues through to the quarter final against a Gunners side which showed eight changes from the win over Crystal Palace with starts handed to Nicklas Bendtner and Ryo Miyaichi.
Jose Mourinho, who kept intact his unbeaten record against Wenger, made 11 changes from the victory against Manchester City; but his side ran out comfortable winners at the Emirates Stadium leading to accusations that Arsenal's squad is lacking quality in numbers.
But Wenger said: "Don't go too quickly in the conclusions. At the moment we have [Theo] Walcott, [Alex] Oxlade-Chamberlain and [Lukas] Podolski who are out.
"It's three players who have a big impact offensively. If you put them in I believe that it's a completely different position in the team."
Despite bringing in four players during the summer transfer window, Wenger had admitted his squad were short of players, a situation accentuated by the early season absence of Walcott, Oxlade-Chamberlain and Podolski, who have been long-term injury victims while Abou Diaby is also out.
Mathieu Flamini is the latest Arsenal injury victim and will miss up to three weeks with a groin strain, but Wenger's recent comments point towards contentment with his current squad ahead of a January transfer window in which he has been urged to spend.
Arsenal's injured quartet are all set to return before the New Year, and should the club not sustain any further absentees then Wenger could be tempted not to delve into a market which is not regarded for providing value.
As Arsenal enter a pivotal period in the season, with a run of games which is set to truly test their recent improvement, defeat to Chelsea which followed last week's loss to Borussia Dortmund draws questions over their ability to sustain that early season form.
But Wenger isn't perturbed by defeat to Chelsea: "Overall, it was a very tight game. It was decided by one or two opportunities and Chelsea exploited our mistake.
"Of course it's difficult [to lose two successive games at home]," he added. "That's part of the season you know you will not win all of the games, but we have to respond well on Saturday against Liverpool.
"We are in a strong position in the league and we have a good opportunity at home and we have to turn this round because away from home we are very solid but at home as well you know that it is important and vital to win the big games.
"I think if you take the points we have made since January 1, it's more than everybody else. I believe that, over a longer distance, you'll see more of the quality of the team than in the last two games.
"It is true that it is difficult to swallow what happened to us in the last week the Champions League defeat to Borussia Dortmund], but as well the mistakes are so big that they can be corrected.
"We have to keep the basis of our game and go into the next one with that and get those mistakes out [of our system]."