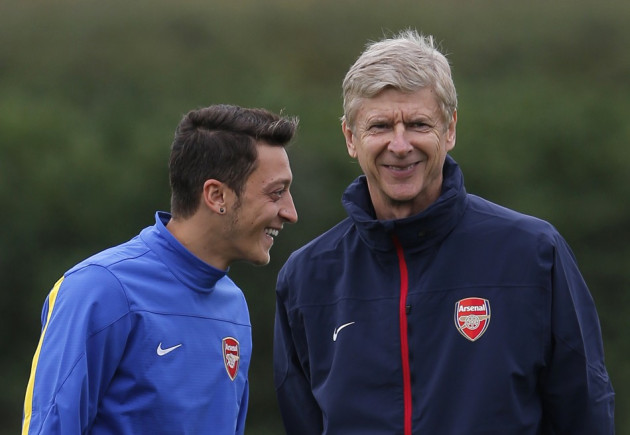 Arsenal manager Arsene Wenger says the opening Premier League weekend defeat to Aston Villa set in motion the record signing of Mesut Ozil from Real Madrird and caused a huge upheaval at the Emirates.
The Gunners lost 3-1 to Villa in their first game of the season with fans voicing their displeasure with the club having failed to significantly add to their squad in the summer transfer window, despite the board declaring that funds were available.
But 16 days later on deadline day Arsenal struck gold when they secured the signing of Ozil for a record fee and the German has proved integral to a run of 10 successive wins and the club's climb to the Premier League summit.
Wenger, while addressing shareholders at the club's annual general meeting at the Emirates Stadium, said the loss to Villa sparked an early season 'revolution'.
"I must say that the Aston Villa game created a huge revolution, for two simple reasons," he said. "First of all it was the first game of the season, it happened at a time when we had not bought anybody, people became a bit nervous and I can understand that.
"The mental strength of the team was fantastic because three days later we travelled for a difficult game in Turkey and came back with a very positive result.
"I would say that our policy in the future of the club after a very long, restricted period financially, when we had to be very tight, we have come out of that with good stability in our results. But of course we have a huge ambition to win this league again, that is the target of the season.
The draw at West Bromwich Albion might have ended Arsenal's winning run but it kept them top going into the international break after seven matches.
Norwich City travel to north London this weekend as Arsenal attempt to retain top spot and with champions Manchester United and pre-season title favourites Chelsea and Manchester City all suffering early season difficulties, Wenger is promising success come next May.
"We are top of the table, we are in a very strong position, but if you look the schedule, then by the end of November you will have a much clearer situation of where the strengths of everybody lies in this Premier League," he added.
"When we get all of our players back, then at the moment I am confident we have a very big part to play in this league. I am confident that at the end of May, we will be happy."