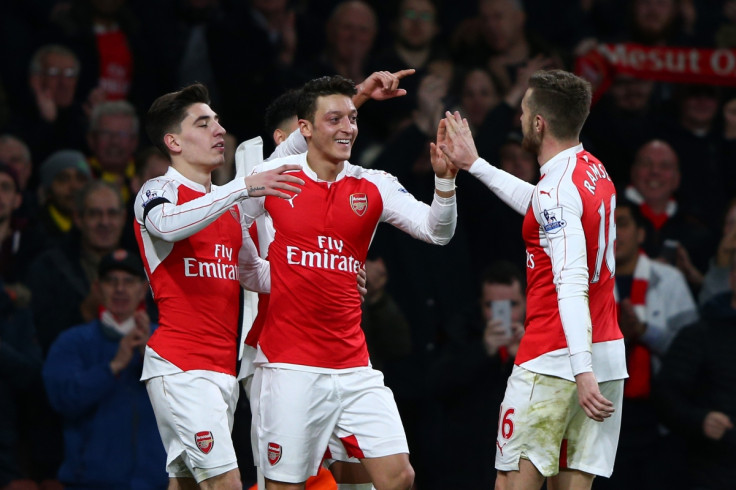 Arsene Wenger has claimed that comparisons between Mesut Ozil and Dennis Bergkamp are becoming increasingly pertinent as the German international has added goals to his growing tally of assists this season. The midfielder picked up his 16th assist of the season and scored his third goal in the league against Bournemouth, helping the Gunners to a 2-0 win.
The scoreline could have been much higher if his teammates were able to finish the openings he had created, with the midfielder creating nine chances in the game, the most by any player in the league this season. Theo Walcott, Olivier Giroud and Aaron Ramsey all failed to benefit from the German's vision who is single-handedly carrying the Gunners, as they look to end their decade-long wait for the title.
The win has taken Arsenal to the top of the league, overcoming Leicester City who still have to play Manchester City on Wednesday, 30 December. However, all eyes will be on the Gunners' injury list, which has become longer in recent weeks, if they have to maintain the pressure in the quest for the title. Wenger will be hoping that Ozil can maintain his run until Alexis Sanchez makes his much coveted return in the second week of January, before their FA Cup tie against Sunderland at the Emirates.
"Look at the numbers. On the assists they speak for him," Wenger said when asked if Ozil is the best player in the league, as quoted by the Mirror. "He has become a complete sensational football player. I am very, very happy with his performances. He is one of the best in Europe certainly. In his position, he is sensational.
"Bergkamp was more goalscorer than him and he was more of an assists man but now he becomes more of a goalscorer so they really are comparable. He has remarkable technical quality and something that I enjoy very much is the timing of his passes. If you think in the stand give the ball now, it is now. You have not finished your thinking and the ball has gone has gone already.
"And that is somebody who thinks always as the song leader with the right tone and that is something difficult to achieve as decision you have to make at so quick. Mesut was the focal point to our team because we had a new midfield again and he's a guy who gives reassurance with his technical security and fluidity. He gives you slowly confidence.
"I have seen a few good games from Mesut. What is important is that he convinces everybody he is not just a very talented player but he is working hard for the team and he has added scoring goals to assists. He is a complete player."